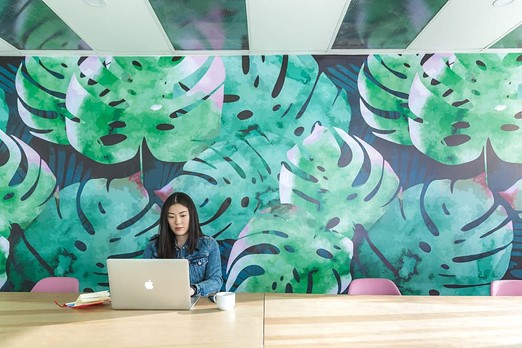 Ari Sorkin is the owner and operator of Tap Design Group which specializes in large format printing, company signage, vehicle wraps, wall wraps, apparel screen-printing and embroidery, trade show graphics, brochures, decals, and more. In the following article, Ari Sorkin discusses how wall wraps for business create an environment of engagement for customers.

Businesses of all shapes and sizes can benefit from a bit of oomph inside (and outside) their four walls, especially those that welcome in-person customers. And custom wall wraps might just be the answer.

Doctor's offices, restaurants, retail stores, boutiques, bakeries, and more benefit from installing wall wraps to make a statement. In the fast-paced, stimulating world of today, simple framed paintings or plain walls just don't cut the mustard.

Companies need to think big to make profit-boosting sales, and crafting eye-catching wall murals is a sure-fire way to make a positive impact on every customer who strolls through the doors.
Ari Sorkin Explains the Magic of Wall Wraps
Bespoke wall wraps are the ultimate engaging environment creator for a variety of reasons. Not only are interesting surroundings proven to decrease agitation and/or nervousness in waiting patients or clients, but murals bring a whole host of other benefits to companies large and small, including:
Revamped Customer-Facing Interior Spaces
Whether sitting in a reception area, walking around a showroom, or waiting at a hospital, people want to be entertained and informed; wall wraps can fulfil both of these requirements.

Ari Sorkin says that the murals are installed to an exceptional standard, creating a seamless change of scenery with a unique-to-the-business flair in a relatively short amount of time. Painting or remodeling are notoriously time-consuming tasks that companies can avoid with a simple wrap.

And it isn't just a plus point for the customers; employees will undoubtably love the redesign too! Even in a non-creative role, adding some artistry to a workspace can increase productivity and bring a sense of rejuvenation to teams.
Increased Sales for Booming Profits
Creative wall wraps can simultaneously pull passersby into the newly decorated shop and encourage them to splash some cash. Every brand is impactful — murals just give them an even bigger chance of standing out from the crowd.

Ari Sorkin explains that depending on the business, less may be more when it comes to creating engaging wraps. Corporate offices, for example, may benefit from simple yet stylish wall graphics, whereas a cute bakery would most likely suit an expansive array of cute imagery across their entire back wall to increase sales.

The wall wrap itself is entirely customizable to the company, ensuring owners get exactly what they're looking for. And if they don't know how to make the right statement, they can enlist the expertise of the wrap company they choose for a hassle-free experience.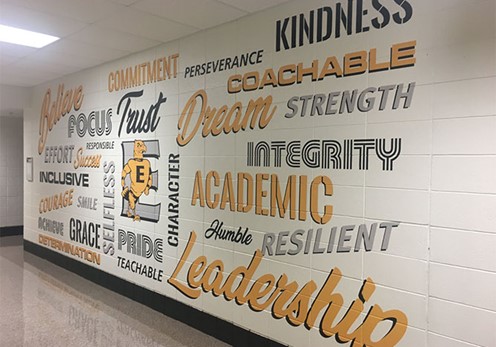 Boosted Brand Awareness
Businesses in areas with lots of foot traffic can benefit from exterior wraps. In fact, it's quite common to see different outlets wrap their buildings to entice consumers into their stores over others — and it works.

Ari Sorkin notes that as the planet keeps growing busier, people are more distracted than ever before. Thus, exposure is the key to success, with wall wraps taking center stage as the primary method to get brand names out there.

Experts state to be engaging in the right way, companies must ensure their wall wraps focus on one major aspect of their business like an environmental message, a product's USP, or a highly beneficial service. As the former is such a hot topic amid the globe's fight to be carbon neutral, many modern-day companies that wish to remain relevant are choosing environmental messages for their wall wraps. After all, consumers are typically choosing eco-conscious businesses, so flaunt this aspect for customer retention and acquisition.
Cost-Effective Advertising with Long-Lasting Effects
Compared to traditional forms of printed or published advertising, wall wraps offer a much higher ROI.

Ari Sorkin explains that after the initial purchase price and time spent installing the mural, they'll stay in place for years without requiring replacements and need little to no maintenance. The low up-keep and cost savings make them a welcome addition for all businesses — from startups to huge corporations.
Increase Sales, Intrigue Customers, and Spread Brand Awareness
Ari Sorkin notes that nowadays, the competition in all industries is fierce. So, standing out could be the difference between winning clients and losing them. Businesses who invest in creative wall wraps experience the sales-enhancing, customer-intriguing, awareness-spreading benefits in a cost-effective manner, a perfect recipe for ongoing success.