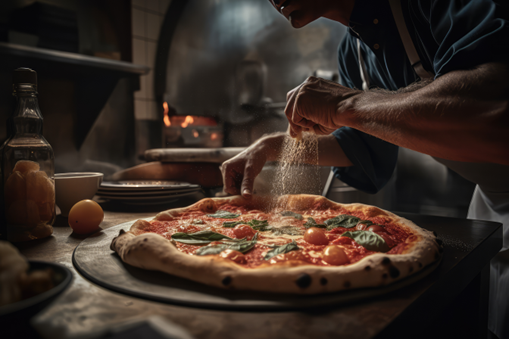 When it comes to pizza, Chicago is often known for its one-of-a-kind deep dish pizza. However, a true Chicagoan would tell you that the Windy City is equally well-known for its tavern-style pizza. In this post, Ryan Bluestone will talk you through Chicago's top tavern-style pizzerias uncovering the best thin-crust pizza the city has to offer. Whether you're a fan of Chicago Pizza or simply looking to try something new, you'll find the perfect pizza in this city. Let's get started!
Chicago's Tavern-Style Pizza Varieties
Chicago is globally renowned for its mouth-watering deep-dish pizzas, but did you know the city also boasts an array of tavern-style pizzas that are equally as famous? Characterized by their thin and crispy crust, these square-cut delights are the ideal bar snack and have been staples in the Chicago scene for decades. If you're keen to explore Chicago's pizzerias and sample their unique tavern-style varieties, here are some of the top spots to consider.
Vito & Nick's Pizzeria: Located at 8433 S Pulaski Rd in Ashburn, Vito & Nick's Pizzeria has been an institution in Chicago since 1923. In 1946, with the help of Nick's mother they began making pizzas. Their original Sicilian style pizza combined quality tomato sauce, carefully seasoned sausage, pure cheese, and a guarded dough recipe. Their pizza has stood the test of time (for over 58 years) and today Vito & Nick's is still serving up mouth-watering pies where it all started at 84th and Pulaski.
Pat's Pizza: Founded in 1950, Pat's Pizza has been delighting Chicagoans with its thin and crispy tavern-style pizza for over 70 years. Ryan Bluestone said that it might just be the thinnest pizza he has ever tried! The spinach artichoke dip is the perfect starter. You can find this neighborhood favorite at 2679 N Lincoln Ave in Lincoln Park. Pat's Pizza is renowned for its classic flavors, quality ingredients, and friendly owner, Nick. Pat's Pizza was originally established in 1950 at 3114N. Sheffield by his father Nick Pianetto Sr. His son's name is Nick, his nephew's name is Nick, his grandson's name is Nick, his nephew's son's name is Nick, and his dog's name is Nikko…
Marie's Pizza & Liquors: Established in 1940, Marie's Pizza & Liquors is a unique destination located at 4127 W Lawrence Ave in Albany Park. Combining a vintage bar with a classic pizzeria, Marie's offers an authentic Chicago experience. Their thin crust tavern-style pizza, alongside a wide selection of drinks, makes Marie's a beloved spot for locals and visitors alike.
Candlelite Chicago: Situated at 7452 N Western Ave in Jefferson Park, Candlelite Chicago has been serving its signature cracker-thin crust tavern-style pizza since 1950. Candelite also has a gluten free cauliflower crust option that is a great alternative! Open 7 days a week, this spot has been a Chicago staple for almost 75 years. The warm and inviting atmosphere, coupled with their crispy crust, flavorful sauce, and unique toppings like the white pizza, angry hawaiian, and taco pizza, make for an adventurusl dining experience.
Aurelio's Pizza: With multiple locations across the city, including 1212 S Michigan Ave in the Loop and 330 W Army Trail Rd in Addison, Aurelio's Pizza has been a Chicago staple since 1959. Aurelio's claims to be the oldest original pizza franchise. Their tavern-style pizza features a thin and crispy crust, robust sauce, and a range of topping options. Aurelio's now has 37 franchised locations and 3 corporate owned locations.
Phil's Pizza: Phil's Pizza has been serving their famous thin crust tavern-style pizza since 1975. You can find this cozy pizzeria at 1102 W 35th St in the Bridgeport neighborhood. After 48 years in the original location the owners of Phil's took their original ovens and moved down the street to continue serving up hot pies at a new location. The crispy crust and fennel sausage have not changed at all!
Armand's Pizzeria: Family owned since in 1956, Armand's Pizzeria has multiple locations throughout Chicago. They quickly became famous at Armand's Victory Tap, selling thousands of pizzas per week. Their thin crust tavern-style pizza is loaded with toppings and boasts a satisfying crunch. Other menu highlights include the stuffed artichokes, baked clams, and antipasto. Whether you visit their Elmwood Park location at 7650 W North Ave or another spot such as Vernon Hills, Armand's offers an authentic chicago pizza experience.
Fox's Pizza Den: Since 1964, Fox's Pizza Den has been a go-to destination for tavern-style pizza on the South Side of Chicago. Now with various locations in the city, including Beverly and Lincoln Park, Fox's is known for its thin crust, flavorful sauce, and broad array of topping choices. Back in 1964, a young Irish couple, Thomas and Therese Fox, found their own American dream with a delicious pizza recipe and a bustling pub.
Nick & Bruno's Pizzeria: Established in 1946, Nick & Bruno's Pizzeria has become a beloved Chicago destination for tavern-style pizza. Located at 14422 S Pulaski Rd in Lincolnwood, this family-owned restaurant offers a thin and crispy crust, zesty sauce, and plenty of generously applied toppings, attracting pizza lovers seeking an authentic Chicago-style pie. Locals like to change it up at Nick & Bruno's by ordering the gluten free crust or doubling down with the double-crust pizza. Ryan Bluestone's favorites include the Bubba Beef Pizza, featuring italian beef and sweet or hot peppers; just like a classic Chicago Beef Sandwich. Don't forget to try Nick & Bruno's buffalo wings on the side, made fresh to order of course.
Ryan Bluestone's personal favorite is Barnaby's of Northbrook. Founded in 1969, Barnaby's Pizza has established itself as a local favorite. Located at 960 Skokie Boulevard in Northbrook, this family-friendly establishment offers a cozy and unique tavern-style atmosphere for diners, and often hosts a line out-the-door. Barnaby's Pizza is famous for its thin crust, tavern-style pizza that is loved by literally everyone. Their signature pizza features a crispy cornmeal-coated crust, flavorful sauce, and a generous amount of cheese and toppings. Alongside their renowned pizza, Barnaby's also offers a limited variety of appetizers, salads, sandwiches, and pasta dishes to cater to different tastes. Ryan recommends eating dinner there, as the pizza never makes it through the car-ride home anyways!
In Conclusion
Chicago is home to some of the best pizza in the world, and our tavern-style pizza is no exception. If you're looking for a delicious, crunchy crust cut into small squares, perfect for bar snacks or anytime you don't want a large slice, then Chicago's tavern-style pizzas are exactly what you need! From traditional Italian flavors to creative toppings, Ryan Bluestone's guide to Chicago's tavern-style pizza will set you up to discover an amazing variety of pizza.