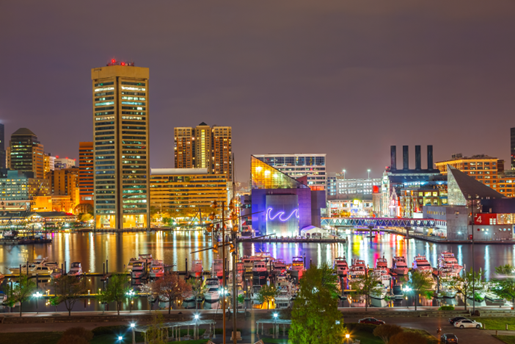 Taylor Metzger of Sabillasville, MD, always relishes the opportunity to visit Baltimore's vibrant food scene. The Charm City certainly doesn't lack charm when it comes to delicious cuisine. While many think only of Maryland crabcakes when they consider the Baltimore food scene, Taylor Metzger of Sabillasville, MD, is about to prove why Baltimore has so much more to offer than a delicious crabcake.
For Taylor Metzger of Sabillasville, MD, his favorite way to enjoy crab in Baltimore is the simplicity of the Baltimore steamed blue crab. Baltimore is famous for steaming crab as opposed to boiling them, which seems to provide more flavor. Of course, no good crab meal is complete without some butter and Old Bay seasoning. Taylor Metzger of Sabillasville, MD, believes the only thing that keeps anyone from overeating when they have delicious blue crabs in front of them is the fact that they need to work for their food. If you don't know how to pick a crab properly, don't worry, a local will surely show you.
Baltimore's culinary scene takes the plethora of crab available to their restaurants and thinks of new ways to put their own spin on a crab dish. Everything from stellar pasta dishes to outside-the-box salads featured Maryland crab, but in the rankings of Taylor Metzger of Sabillasville, MD, the runner-up to steamed crabs will always be crab dip. Just about every establishment serving food in the city will have a classic crab dip on the menu. Taylor Metzger of Sabillasville, MD, has ordered crab dip in other parts of the country but nothing comes close to the fresh crab dip found in Baltimore.
Turning away from crab, for now, Taylor Metzger of Sabillasville, MD, has always had a sweet tooth. When dessert is on the menu, Berger Cookies is always the first stop. East Baltimore has been home to Berger's Bakery since 1835 and you don't stay in business that long without one incredible cookie. There most famous cookie has a cake like consistency and is covered in fudge. A lot of the local grocery stores will also carry products from Berger's Bakery.
Any adult visiting Baltimore in the summer and looking for an adult beverage will likely find themselves in need of an Orange Crush. Taylor Metzger of Sabillasville, MD, points out that the orange crush is somewhat of a signature drink for the entire Charm city. Combine a ton of crushed ice, fresh squeezed orange juice, triple sec, and vodka, and you have a drink that is the perfect way to stay cool on a hot summer's night. The Orange Crush got its start in nearby Ocean City, Maryland during the 1990's and quickly grew so popular that practically everyone in Baltimore was serving them. Variations of this drink include versions that replace the orange juice for lemon juice, blackberry juice, and even cherry lime-aid. If the Orange Crush doesn't sound like a cocktail you would enjoy, there's always the more traditional Black-Eyed Susan.
Baltimore has been serving the Black-Eyed Susan cocktail since the 1950's. They became famous for being the drink of choice for visitors of the Preakness Stakes. To make one at home, Taylor Metzger of Sabillasville, MD, notes you would need whiskey, Peachtree schnapps, vodka, orange juice and sour mix. On the third Saturday every May, these classic cocktails are served to countless people rooting in their horses.
Now, back to real food. While crab is by far the most popular seafood dish served in Baltimore, fresh oysters from Chesapeake Bay have to be a close second. Just like with crab, there are countless ways to order oysters in Baltimore. Different dining establishments specialize in steamed, fried, raw, and even char-grilled varieties. There are a lot of great seafood restaurants in the area, but Taylor Metzger of Sabillasville, MD, recommends the Urban Oyster for reliable, delicious oysters.
Finally, Taylor Metzger of Sabillasville, MD, recommends that anyone looking to eat like a local consider going out of their way to find a lemon stick. The lemon stick is simply a peppermint stick wedged into a lemon that has been halved. It's a treat that locals credit to the Mount Vernon Place Flower Mart in 1911. Utilizing the peppermint stick as a straw, the perfect blend of sweet and sour reaches the taste buds. It's refreshing, fun, and Taylor Metzger of Sabillasville, MD, has yet to see them anywhere else.