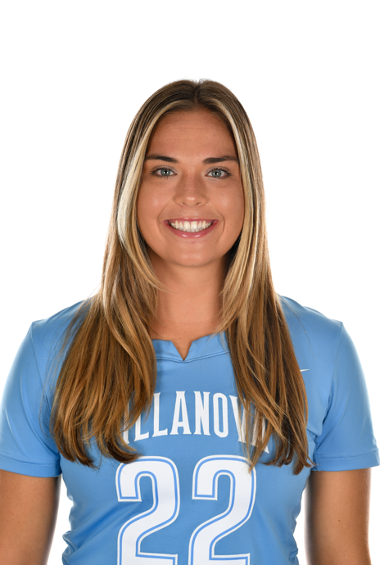 STUDENT ATHLETE of the WEEK
By Carmen Greger
PF: Caroline, when and where did you start playing lacrosse? Tell us about your lax experience up until now. Did you always know you'd play in college?
CC: I am from Ridgefield, CT born and raised. I am coming up on my 13th year playing lacrosse! Everyone's sport experience is different, and although I have had some bumps along the way specifically in college I would not trade my experience for a thing. I committed to play division I lacrosse at Lafayette College in Easton, PA September of my Junior year of HS. I attended Lafayette one year and competed before transferring to Villanova. I was ultimately looking for a school more athletically challenging, along with more options academically.
My sophomore year at Villanova was the beginning of the pandemic so my first year got cut short. Although that was definitely a difficult time of my career, without the pandemic I would not be competing as a grad student, so in the bigger picture I am so grateful for that because I have this now. Playing through COVID during the 2021 season was a strange time, and demanding period for all of NCAA athletes as we were testing every few days during season and put into abubble where we could really only be with our teammates for safety reasons.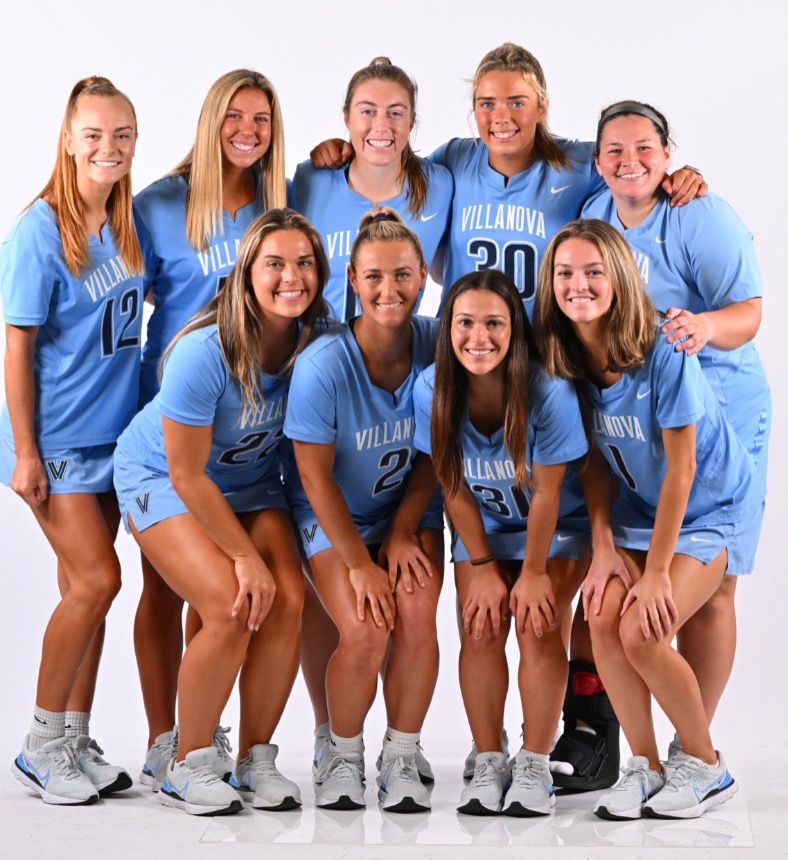 At the end of the 2021 season our coach retired and we got a whole new coaching staff. This is now my second year playing under this staff, and I could not be happier that I have these coaches as mentors and leaders. Going through three different staffs during my 5-year career is not something that is normal, but I am happy I have learned from a variety of people over the time of my lacrosse career. It has genuinely made me a better player, and leader and coach.
PF: Do you remember the first time you ever picked up a lacrosse stick? What was it like? Paint the picture for us; take us there if you will.
CC: The first time I picked up a stick I was in 5th grade– my childhood friend, and her Dad (Coach McLam) convinced me to make the switch from softball to lacrosse because it was a new and upcoming sport. Coach McLam was the town youth coach, and I was excited to try something new. I had raw athletic talent but struggled with stick skills. Many of my friends had been playing for a few years so I was new to the game.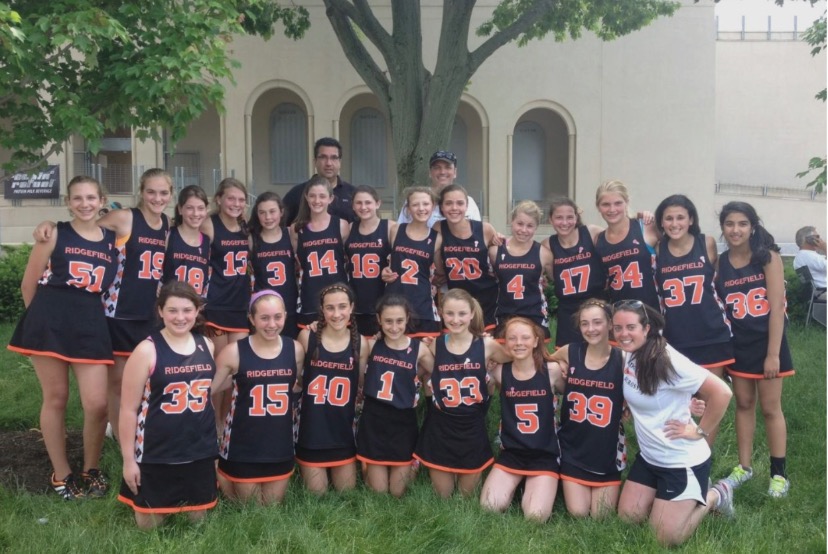 I vividly remember struggling to pick up a ground ball during the tryouts, and ultimately, I was put on the B team my first year playing… the competitive side of me was embarrassed even though this was my first time ever playing the sport.
But that is when my work ethic and passion for the sport begun.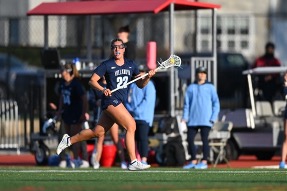 The following years we won two state youth championship under Coach McLam. That was 10 years ago, and that was the last time I won a championship in lacrosse. I have made it to one county finals in HS my junior year, and one state championship senior year both firsts in Ridgefield High School History.
What makes this year so special to me is the opportunity to compete one last time, this past summer, Coach McLam passed away from a courageous battle with cancer. I made a promise I would finish my career the way I started it– winning a championship. I'll be thinking of him and his family as I go forth competing in the 2023 season, because ultimately without his convincing I would not have picked up a stick and fallen in love with this sport. I am so grateful for that!
PF: Where is 'home' besides Villanova?
CC: I am from Ridgefield CT, I was born and raised there, and have lived in the same house my whole life!
PF: Do you have siblings? Are they athletes too?
CC: I have an older Brother Ryan who graduated from Villanova in 2014 from the Business school. He did not play a sport in college, but My dad Played baseball at Lafayette College and went on to pitch for the New York Yankees in the minor leagues.
PF: What position do you play?
CC: I play Attack and I am a draw Specialist.
PF: Can you shed some light on this being your 5th year playing at Villanova?
CC: After the cancelling of the 2020 season, the NCAA granted all eligible student-athletes an extra year of eligibility to compete. I knew right away that I would take this extra year, it's one of those opportunities I could not pass up, and it felt almost full circle for me to spend another year at Villanova after transferring in.
PF: How challenging is it to balance academics and sports? And what are the best techniques for doing so?
CC: The most important lesson being a division 1 student-athlete teaches you is time management. As an undergraduate your schedules are packed from your usual 15+ credit semester, practice, meetings, lift/conditioning so it is important that you stay on top of your schedule and plan ahead. The best way to go about this is to organize, prioritize and strategize, and take things day by day so you don't get overwhelmed.
PF: Do you play any other sports?
CC: In HS I was a three sport All-state athlete, the only to receive that honor in my high school, competing in both basketball and volleyball alongside lacrosse.
PF: What is your major and why did you choose it?
CC: I graduated in May with a communicate degree. I am currently a grad student at Villanova receiving a certificate in Higher Education Leadership.
After my season I would like to be a collegiate coach and I felt like learning about leadership roles in higher education institutions would best prepare me for this new role to come.
PF: What do you hope to do professionally and personally after graduation? Please explain.
CC: I hope to continue my lacrosse career even after May. I have dreams to help take this sport to new heights and play professionally post-college! Iam really looking forward to what the next five years has in store for me as a lacrosse player.
PF: What advice can you give young athletes attempting to follow in your footsteps?
CC: Dream Big. I say that to myself every day! Only you can hold yourself back from achieving your dreams. My passion is the driving force of my love for the game and work ethic as an athlete. Secondly, with the world of club sports and specialized athletes it is hard to be a multisport athlete, but as a three-sport athlete myself I would not trade my past for anything. I did not play club lacrosse because I spent my summers on the volleyball court gearing up for season. It kept me excited about each season and each sport, and it kept things fun. Ultimately, because I always played multiple sports I was excited for college to really focus on one and put the time in to reach my full potential as a lacrosse player. It also helped me avoid the burnout some athletes feel with specializing in a single sport early on in their career.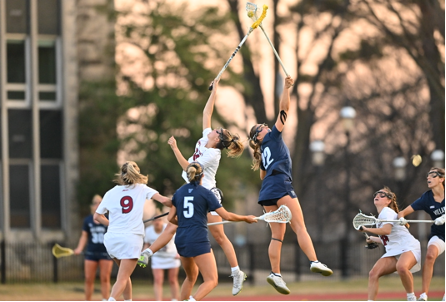 PF: What is the best thing about being a student athlete?
CC: Developing relationships with so many people, like my teammates, coaches, support staff and professors all who are so important to a student-athletes college experience. Creating relationships that will last a lifetime makes lacrosse so much more meaningful.
PF: How has being involved with sport inspired confidence and positive lifestyle choices?
CC: Being apart of a sport has tremendously helped me off the field in many of my life choices. Your body really takes a tole over the years after competitively playing year-round, knowing how important my performance is making my health my number one priority. That means, eating healthy, getting proper sleep, handling stress, and doing my job outside of sport to make sure my body is being take care of. We have great recourses within athletics, which help me handle injuries, fuel my body, and recover properly after practice. Alongside the physical side of sports, the mental side is something that is being talked about more and more today.
Training your mind is arguably just as important as training your body. Meeting with sports psychologists weekly helps me it's more important I take care of my body. I currently am dealing with a rare on-going knee injury so most of my day around practice consists of pre-hab and post-practice treatment to make sure I am able to play! Dealing with an injury during competition can be difficult, but it has also taught me how important your choices outside of your sport is- what you eat, sleep, handling stress, etc. Adversity
PF: What is the biggest challenge you've had to overcome, what resources did you use and what lesson was learned?
CC: I've had many challenges as a student-athlete. Besides dealing with physical injuries as an athlete, I think learning how to manage the mental battles athletes deal with in response to that.
My junior year of college I was out the fall with a lower back injury, and it was very difficult not participating in my sport for a longer period of time. It took a toll on me mentally not just watching my sport from the sidelines, but also not being able to exercise without pain… dealing with an obstacle like that which takes you away from your passion, is something that is very hard to navigate on your own. Luckily, I had my coach to lean on for advice, an athletic trainer that helped me every day come back stronger, and teammates that were always there for me. It is so great that I had people in my life during that time, who supported me and cared about me.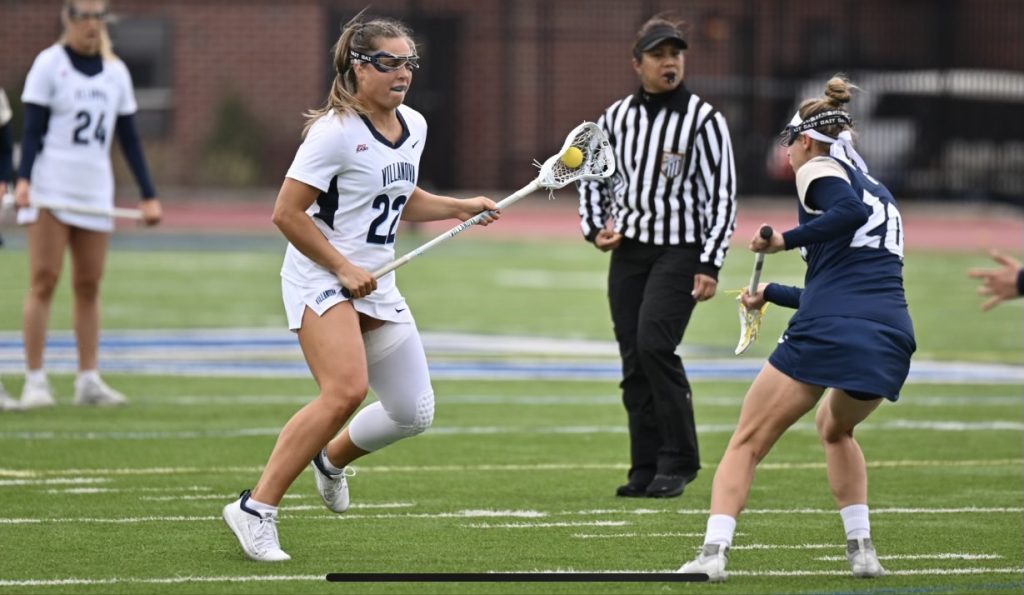 PF: Best moment in your life so far off the field…
CC: June 6th , 2019 was the day I got the call from my previous coach that I had been accepted into Villanova as a transfer. It was a longer process with admissions, and I put my faith into my acceptance with turning down other opportunities. The transfer process was nerve-racking for me as it's a scary process to start over after a year.
But, what made this day so special was 15 minutes before this call, my mom had received a call from her doctor that she beat cancer. She went through a vicious 6 month chemotherapy treatment, and had two surgeries to remove the tumor. Getting the news of my acceptance back to back of my mom's cancer free news was such a special day for me and my family. It was like this wave of peace had come over us and we knew that everything was going to be fine.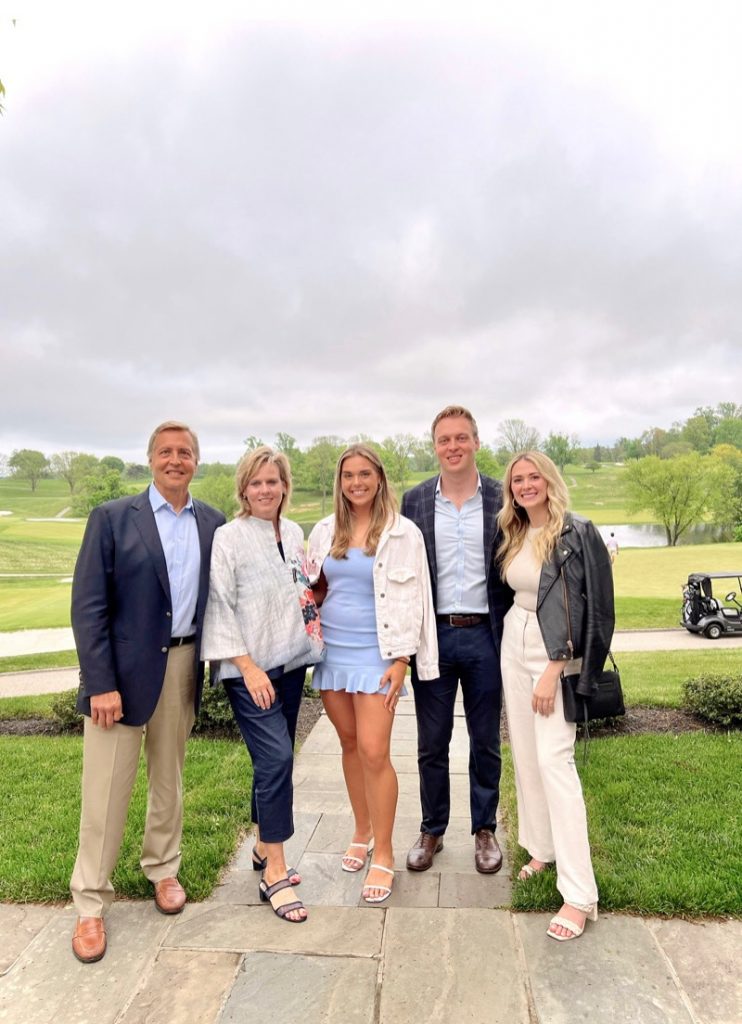 PF: Best moment of your life on the field…
CC: My senior year of HS when I scored the game winning OT goal in the State Semi-Finals to send my team to the State Finals for the first (and only) time in school history. There is a picture of me and best friend celebrating as we walk off the field which is my favorite photo till this day. She now plays lacrosse at Temple and we love when we get to play against each other because it brings back so many memories of being on the field together.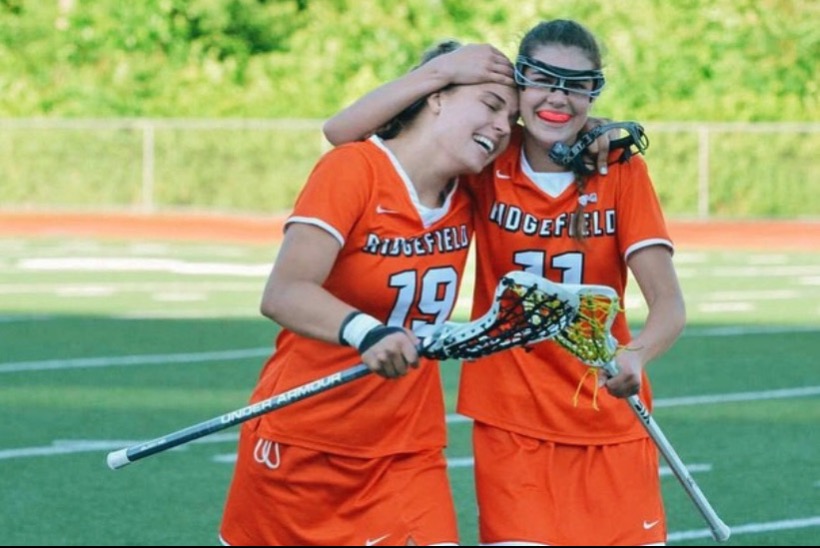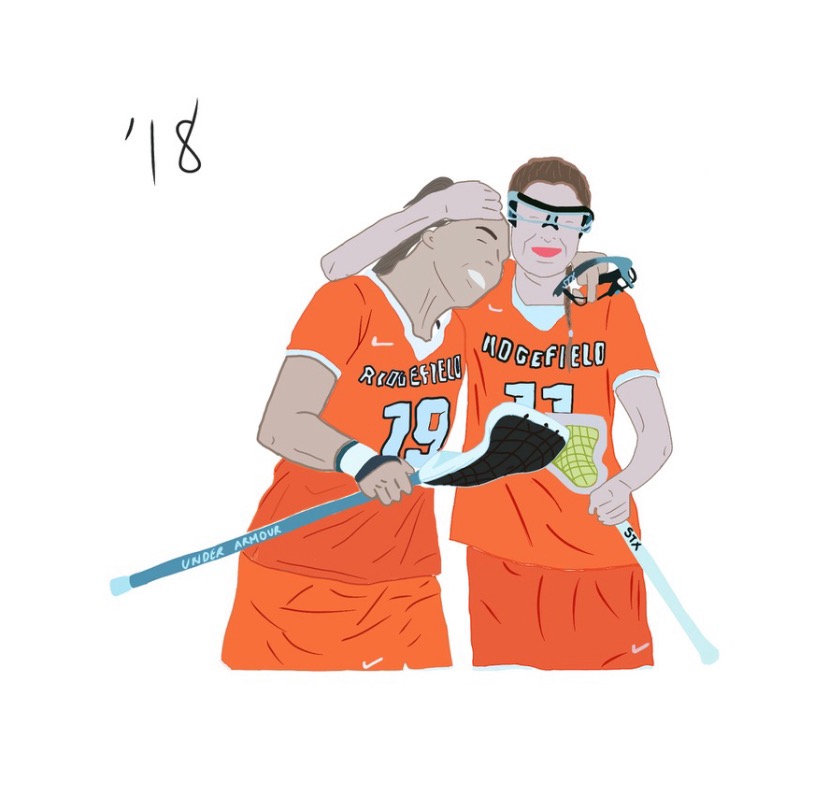 PF: How specifically have you grown as a person because of your role as a player on the Villanova Lacrosse team?
CC: Villanova Lacrosse has taught me the importance of creating meaningful relationships. In my role as a captain this year, I am constantly trying to bring the best out of my teammates each day.
I value our team identity of Faith, Family, Fight, and Fast. And value our mission and vision as a University of Veritas, Caritas, and Unitas which means Truth, Love, and Unity. It's important for me as a leader to own my role both on and off the field and set an example for younger players to follow. Most importantly I value being someone that my teammates can consistently rely on both on and off the field.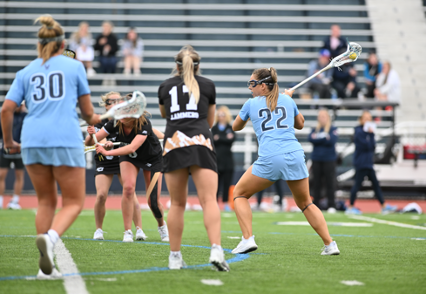 PF: What inspirational advice can you give to highschool students who have a sedentary lifestyle?
CC: Make the most of your time by getting out and trying new things. The most valuable thing in life is creating memories and that comes from meeting new people, trying new things and finding purpose in the little things.
PF: Best lacrosse coach of all time…
CC: This is a difficult question to answer because I believe that each lacrosse coach I have had up until now, has shaped me into the person and athlete I am today. They each taught me something different about myself and the game, and I have grown an immense amount from all of their knowledge.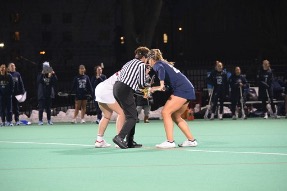 My current college staff is absolutely amazing, and I am so lucky to learn from them each day. Through the struggles of transferring, covid and coaching change mid-way through my career, I knew it was all for the better because I am so fortunate to be able to play under this staff for another year. They are truly the best in the game.
One coach that holds a special place in my lacrosse career was my freshman year assistant coach. She is the one that developed me into a draw specialist and took my game to new heights. Her knowledge led me to develop a passion to coach others and grow the game. I am so thankful for her, and I am so lucky that although we are with different programs now I can still count on her for advice and tips. She is someone I will always look up too in the lacrosse world, not only as a coach but as a person too.
PF: Greatest role model of all time?
CC: My Parents definitely deserve the credit for this because they have done so much for me. I was truly raised in such a great household, and their support through my athletic career has been second to none. I don't necessarily have a specific role model that I look up to in life- However, I am immensely grateful for each coach I have had throughout my athletic career. The support, knowledge, and belief in the team(s) I have been a part of are so inspiring. It has pushed me to become the best version of myself and ultimately has led me to want to be a coach as well.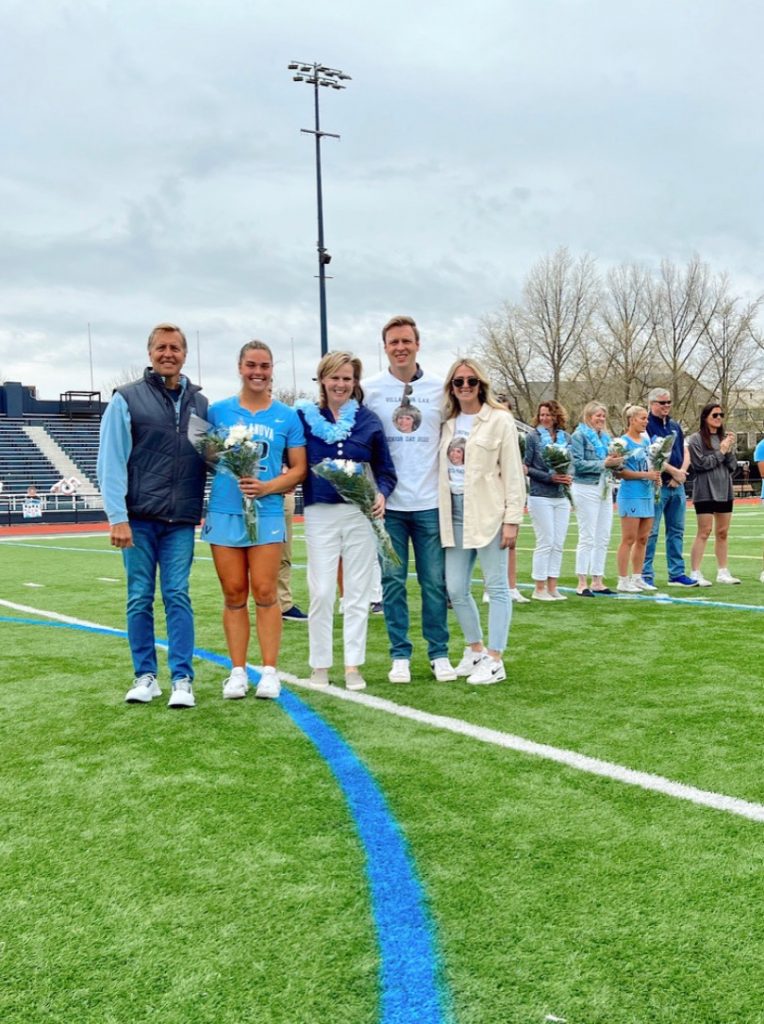 PF: Quote you live by….
CC: DREAM BIG.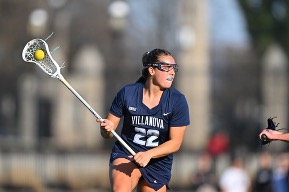 PF: Top 3 additional goals you have in life ….
CC: Create lifelong friendships with the people around me. Make a difference in someone's life. Have a family of my own & watch my kids achieve their dreams.
PF: Top ten songs on your workout playlist….
CC: Break Loose (feat. NEIMY), Call on Me Radio Mix, Diva by Beyonce, CUFF IT by Beyonce, Heartbreak Anthem by Galantis, Dancing on my Own – Tiesto Remix, Vegas by Doja Cat, Text Ur Number Dj Envy, Turn my Swag On by Soulja Boy, 6's to 9's Day Wave Remix by Big Wild
PF: What do you love most about Philadelphia?
CC: Philadelphia has so much to offer. I have really enjoyed being so close to the city, on the Main Line for the past three years. The city has such a great vibe too– even the past week with the Phillies in the World Series it has been so much fun rooting for their success and seeing the city come together to support them.
I look forward to a future in Philly!