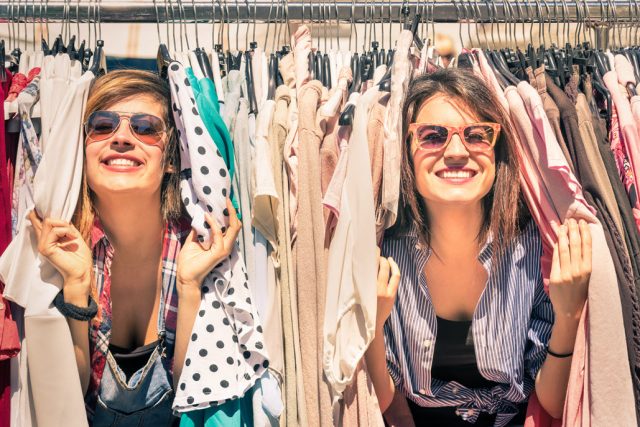 By Carmen Greger
High-end, first-hand fashion is not the first alert on the average teen's radar right now.  The biggest buzzword when it comes to teen retail is 'thrifting' at hip, cutting edge thrift shops.  Not only is this much easier on their digital wallet, it's positively impactful on the environment, as it claims the second position in the 3 Rs that proactively benefit both people and planet:
Reduce, Reuse, Recycle.
When I asked a group of eclectically dressed latte-sipping teenagers bound for Buffalo Exchange on Chestnut Street what they liked so much about thrifting, I got a very mature and insightful reply on the creative expression and cost-effectiveness that consignment shops readily lend:=
'You'll never know what you'll find; it's an adventure every time, kind of like a scavenger hunt, and by the end of the shopping trip, you usually come out with a bag of interesting gems that can be mixed and matched in all sorts of ways, and they're unique pieces that not everybody has, so you really get to sport your own style', said one of the nameless brunettes whose French braids, tennis skirt and saddle shoes popped alongside her one of her shopping pals' spikey green hair, Doc Martins and temporary butterfly tattoos, who passionately added,
'it's important to us to be ourselves. When we thrift, nobody is telling us what to wear; nobody puts the outfits together and there aren't 10 of the same tops on a rack. We get to seek and find what speaks to us so when we wear it, we feel like our clothes are an extension of our personality'.
One of the young men in the group added, 'yeah, and if we were shopping at a regular department store, I would never find something like this', he says as he motions to his vintage suede vest in pure voila' fashion while twirling his finger around one of the dangling tassels, 'and we'd be walking out with barely anything for the price of a whole bag of cool stuff'.
Ready to try your hand at thrifting? There are so many places to check out from south street to center city, on the main line and beyond!  Here's a little list to get you started:
Buffalo Exchange, Chestnut Street, Philadelphia
Junior League Thrift Shop, Lancaster Ave, Ardmore
Pennywise Thrift Shop, Lancaster Ave, Ardmore
Clothes Mentor, Sproul Rd, Springfield
Revivals Boutique, Haverford Ave, Narberth
The Salvation Army Thrift Shop, Pechin Street, Philadelphia
Good Will Store, Paoli Pike, Malvern
Bryn Mawr Hospital Thrift Shop, County Line Road, Bryn Mawr
Nana's Attic, Sproul Road, Broomall
Urban Exchange Project, Frankford Ave, Philadelphia
St Alban's Thrift Shop, Chapel Road, Newtown Square
Greene Street, Germantown Ave, Chestnut Hill
The Raxx Vintage Emporium, South Street, Philadelphia
Heres2CoolStuff, South Street, Philadelphia
Before you head anywhere, remember that these places also purchase the clothes you no longer use, so perhaps clean out your closet and unstuff your drawers and make a 'seller's appointment'.  Remember that old saying 'one person's trash is another person's treasure'.
Many of the second hand stores are also associated with organizations they aim to support and will donate some or all of the proceeds to that group, entity or cause.
Good karma seems to be one of thrifting's bonus accessories. Have at it.
And we'd love to see your 'nifty-thrifties'!
Snap a pic of your best-gets and email to_____________