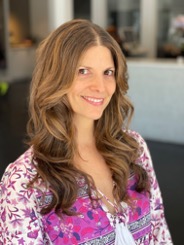 By Carmen Greger
PF: Marla! It's quite obvious that you are a brilliant baker. You are consistently and 'consciously crafting' spectacular and delicious treats (more like edible art!). What's your secret recipe to sweet success?
MW: I love what I do! Baking is meditative for me while cake decorating feeds my need for creativity. Even on my days off, I find myself in the kitchen either baking or cooking. The kitchen is "my place".
PF: What is the origin of the name Viva Honey Cakes?
MW: When I was thinking of names for the business, my daughter, Viva Honey, was the first thing that popped in my head.. The name is a reminder to live sweetly. Viva = life and honey = sweet. Honey is also my Grandma's name and my sweetest memories of her are the times we spent baking together.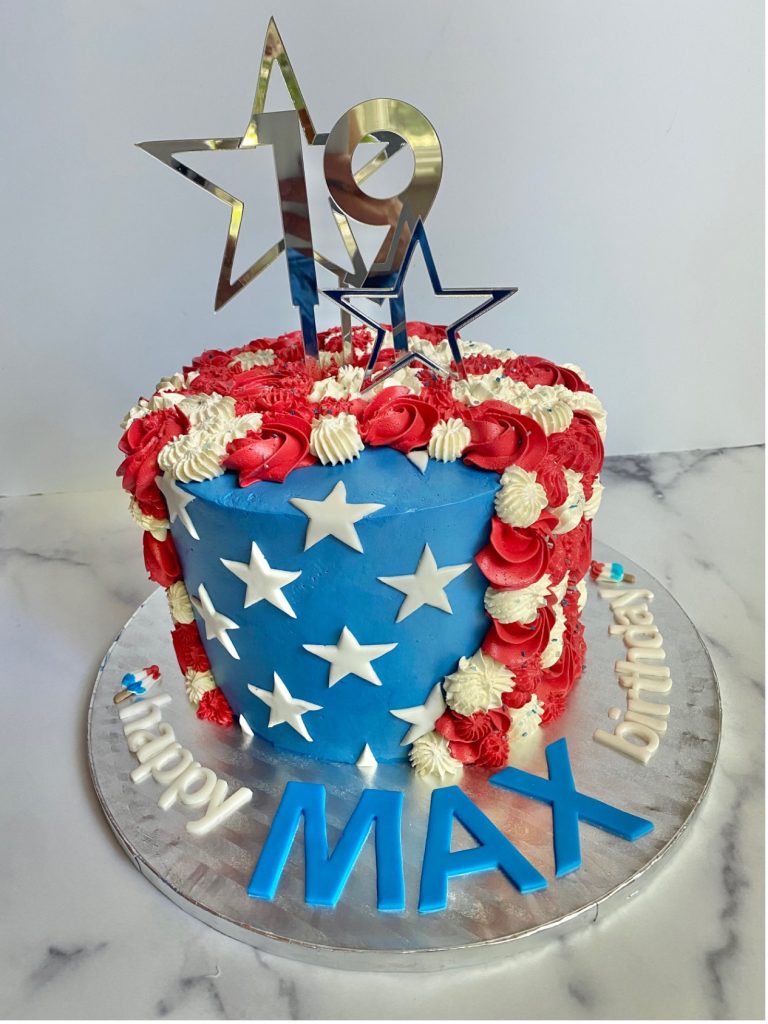 PF: You invented a cool new term: cakestress, how exactly would you define it?
MW: A woman who makes cakes. I didn't invent it; someone referred to me as a cakestress and the term instantly resonated with me. Cakestress is a baker, cake decorator and designer all-in-one.
PF: When did you start baking?
MW: I loved baking as a kid. In 1998, I started Dolcezza, a dessert catering business, out of my apartment kitchen. I also used to teach cooking classes and taught an Easy as Pie class around that time. I started baking professionally in 2017. A couple of friends asked if I could make their birthday cakes. I started Instagram and the rest is history!
PF: What is your favorite thing to bake besides cake?
MW: Pie especially coconut cream or chocolate cream or really any cream pie! I love a good buttery handmade pie crust. We need to keep the tradition of making pie crust from scratch alive otherwise it will be a lost art.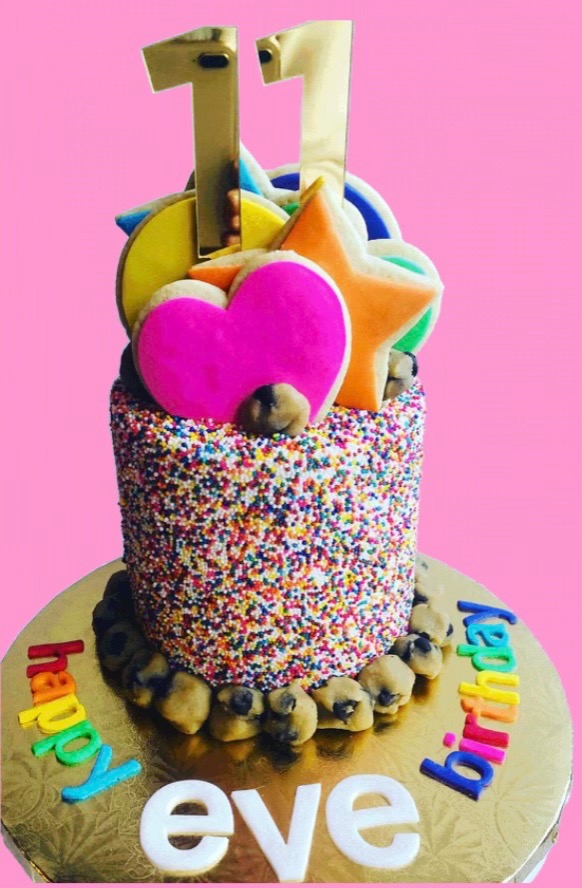 PF: Your cakes belong in a museum, next to Picasso, Matisse, Michelangelo…. they are masterpieces! How do you come up with such brilliant ideas? What does a custom cake consult entail?
MW: Wow, Thank You, I am humbled. So that I can customize a cake especially for the recipient, I like to know the occasion, favorite colors, theme, age, hobbies, etc.. Instagram and Pinterest are inspiring resources but the most important thing is to create designs that are my own. I know what I can do best and I go with that.
PF: Your site proudly and beautifully states 'We believe cake is important'. What does cake mean to you personally and why is it important for you to create custom cakes for others?
MW: Whenever there is cake, there are smiles and celebrations of life's events and milestones. Life is for living and it is important to celebrate that! I feel like I am always celebrating with each cake I make. To see my cakes with happy people gathered around in that moment is a beautiful feeling.
PF: What has been the most challenging cake you've ever successfully mastered?
MW: My first three-tiered cake. I had to deliver it to Center City with all those Philly potholes! I don't think I breathed the entire car ride. Huge exhale when the cake arrived in one piece!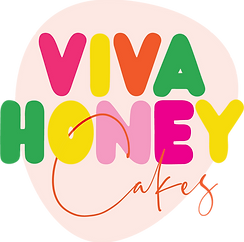 PF: What are the cake categories that you offer?
MW: Signature cakes (traditional birthday cake style), candy volcano cakes (candy and sprinkle blend in a center cavity of the cake, cookie cakes, cake jars, ice cream cakes, pop-up cakes (with cookies on top & cookie dough bottom border).
PF: What is your favorite cake to make?
MW: I love to pipe multi-color buttercream designs on cakes, like rosettes or ruffles.
PF: Does your family bake with you?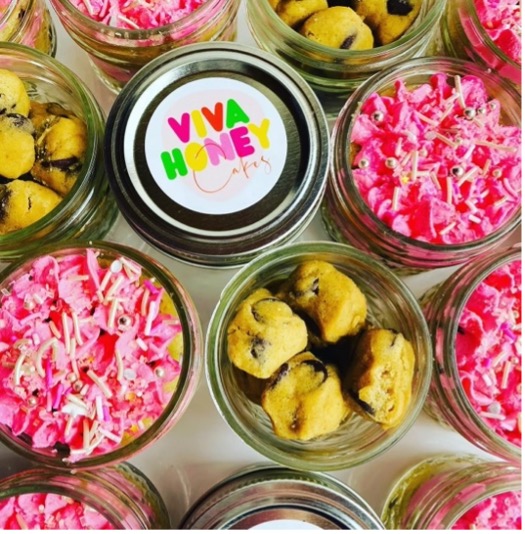 MW: My daughter bakes but likes to do it on her own. I call my son the Taster-in-Chief.
PF: Priceless. If you could create a custom cake for 5 people in the world, past or present, hand deliver it and sit for a slice and conversation, who would you choose and what would the topic of conversation be?
MW: Bob Marley, Jerry Garcia, Barack Obama, Harriet Tubman, my Grandma Honey. We would talk about cake, about dreams, about hope, about bravery, about overcoming obstacles, about family.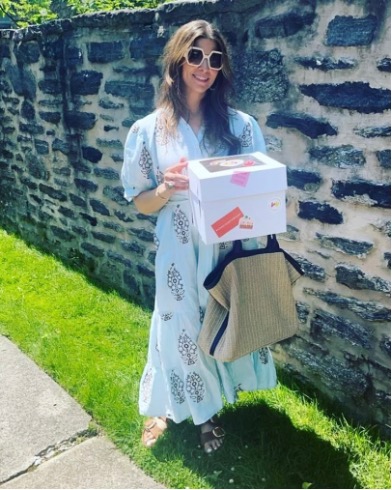 PF: Do you ship your cakes or are they all hand delivered?
MW: I can ship cake jars and cookies, but prefer not to ship cakes. Customers pick-up or I offer delivery.
PF: Have the Eagles, Sixers, Flyers and Union caught word of your great work yet?
MW: I always tag them when I make a Philly sports cake. I once made Shane Victorino's retirement cake. The Philly Sports Cake is probably my most popular custom cake.
PF: Do you make your own Birthday cake? Who in the area makes a close second and why?
MW: I typically do not have an actual birthday cake but definitely have something sweet from a restaurant menu. One year I stuck a candle in some cake scraps and that was my cake. Celebrating another year does not have to be fancy…just delicious! Jenny's Cakestand makes such gorgeous cakes. I also love Cake in Chestnut Hill.
PF: Best cake mix on the grocery store shelves and why?
MW: What are cake mixes? Seriously, I have no idea. I am a "from scratch" kind of girl.
PF: Would you ever sell your cakes to a restaurant or café'?
MW: Sure! Would obviously have to be the right fit for the VHC cake brand.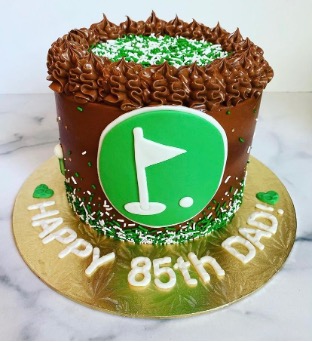 PF: How popular are your vegan options? Are there also gluten free choices?
MW: I make about 10 vegan cakes a year. I also make a gf vanilla and vanilla chocolate chip cake. I have little discipline when it comes to eating the scraps of both vegan and gf cakes – they are that good!
PF: Have you ever made a raw, vegan, gluten free cake? Do tell.
MW: I made a raw applesauce pie in an almond-date crust years ago when I was in my raw eating phase. Let's just say that was a one-and-done. Now I make a vegan cake, a GF cake but not a combo.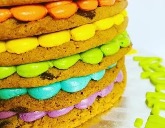 PF: What is the cake most ordered?
MW: vanilla chocolate chip cake with vanilla buttercream.
PF: Do you have a brick & mortar kitchen outside of your home? Or an industrial kitchen at home for business? What are (or would be) the positives and negatives of both as you see it?
MW: I have a licensed home bakery. I love the flexibility of having the business from home. Plus less overhead. In the early years, the bakery literally took over my dining room, which I have recently reclaimed.
PF: What are some great cake baking tips that you can share with us?
MW: Use the best quality ingredients possible and make sure butter and eggs are room temperature. Bake cakes a day in advance so they have time to chill in the fridge. Leveling a cake that is not cold from the fridge just doesn't work.
PF: What advice do you have for young entrepreneurs committed to following their passions and creating a business they love?
MW: Be patient, know your target client base, get advice from others in the field, trust your intuition and go for it!
PF: What does it take to own and operate your own successful business and what are some entrepreneurial perks and obstacles?
MW: I am a one-woman operation which takes a lot of energy and drive. Over time and countless hours in the kitchen, I have learned (and am still learning!) how to to maximize efficiency. Saying "no" to last minute orders was hard at first but so necessary to maintain my well-being and balance. Being my own boss means I can make my own decisions and carve out a schedule that suits me. I have never been a 9 to 5 kinda gal and this business model allows me to have flexibility. After all, I want to be present for my family's celebrations, too!
PF: Wonderful, spot on and well said! So, do you offer internships for inspired students?
MW: Yes, here is a photo of Olivia Feaster. She was my intern as part of her senior project for LMHS.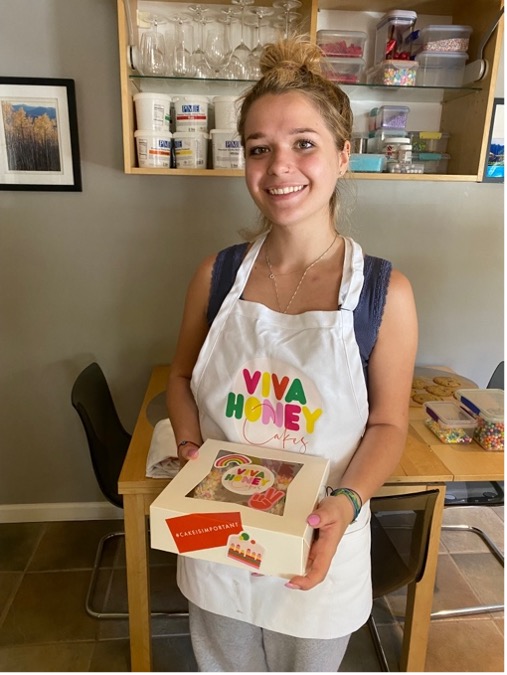 PF: Motto you live by…
MW: Let go of who you think you are supposed to be and embrace who you are. Also, live and let live.
PF: 3 favorite quotes of all time and by whom?
MW: Emancipate yourself from mental slavery. None, but ourselves can free our minds. -Bob Marley
Be the change that you wish to see in the world. -Mahatma Ghandi
Life is a balance of holding on and letting go. -Rumi
PF: Top ten songs on your most listened to Playlist?
MW: Lizzo's new album, Special, from top to bottom (can that count as one?)
I am That I am (Peter Tosh)
Lively Up Yourself (Bob Marley)
Ripple (Grateful Dead)
Beach in Hawaii (Ziggy Marley)
Joy (Phish)
Let Me Lie (Phish)
Let it Slide (Marco Benevento)
Better Together (Jack Johnson)
Ain't Nobody (Chaka Khan)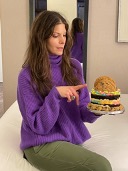 PF: What are your most enjoyed recreational activities?
MW: Hiking, walking, yoga, taking care of my houseplants (my latest obsession), cooking, Hulu/Netflix.
PF: Is Viva Honey Cakes involved with any charitable organizations?
MW: I'll put "Pop-Ups for a Cause" on Instagram where proceeds from these cakes are donated to organizations such as Living Beyond Breast Cancer, Black Lives Matter, NAACP. I also donate cakes for auctions to local schools, JAFCO, etc.
PF: If you weren't in the business of making cakes, what would you be in the business of doing?
MW: Having my own cafe or Bed and Breakfast/Spa. I love hospitality!
PF: What's next on the Viva Honey Cakes to do list?
MW: Cake tutorials on TikTok. I always think about opening a space but I don't want to lose the small-batch micro-bakery feel that defines Viva Honey Cakes. Maybe one day!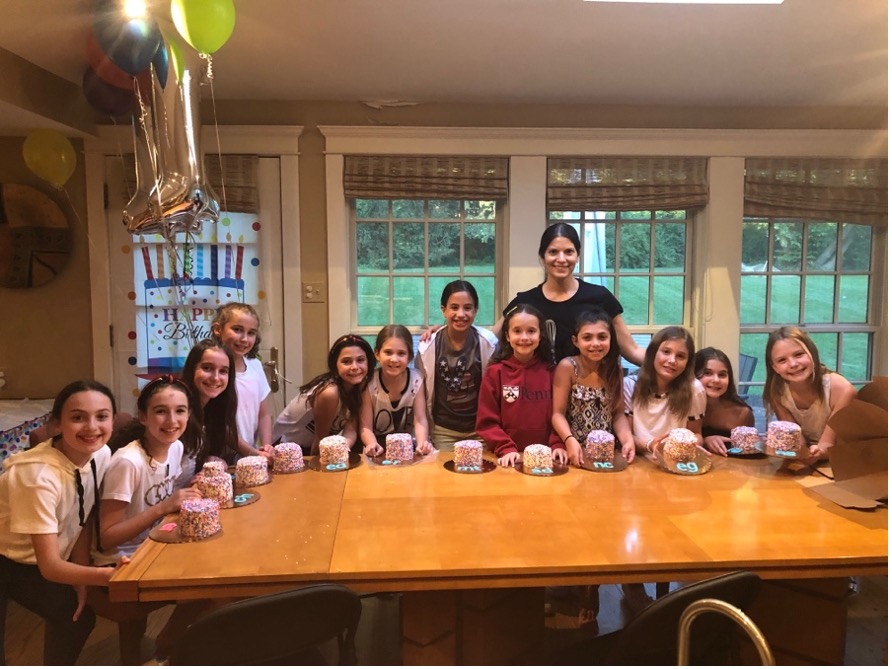 PF: What do you love about Philadelphia?
MW: The passion in this city!
PF: What would you change about Philadelphia?
MW: More sports championships (but don't grease the poles – It doesn't work). And fix the potholes.
PF: What would you change about the world?
MW: The divisiveness. We are all one race, the human race. Let's live on this planet in peace, respect, acceptance and awareness. No need for weapons or wars.
PF: How can our readers best find you?
MW www.vivahoneycakes.com [email protected] . Thank you for doing this feature on Viva Honey Cakes, it means so much to me!