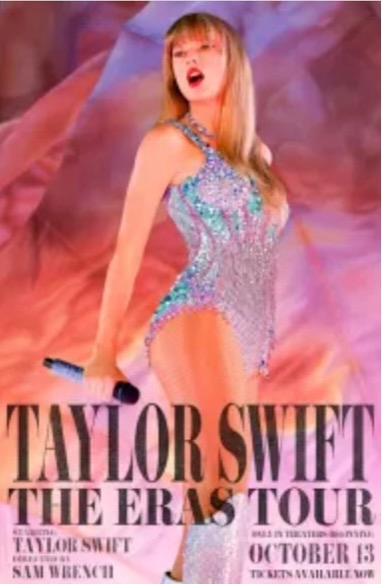 By Stephanie Ortiz
You might wonder if it's mere child's play or if they'll tell you I'm insane to compare "Barbie" with "Taylor Swift: The Eras Tour Movie." Maybe it's a little of both–make-believe and insanity.
They're playing in theaters simultaneously for a bit, so I'm not making that part up. And the two icons, Barbie Roberts (According to Mattel, she does have that last name) and Taylor Swift, have yet to have their showdown. So I'm here to instigate one. it's me hi, I'm the problem it's me.
I love Barbie. She brings on my youth. And Taylor because she reminds me of my girl's childhood, and in my wildest dreams, after her concert movie, I can't get her songs out of my head. And now I love them both because here they are in 2023 at the box office.
If Barbie knew she'd be up against Taylor when she came to the real world, she might have considered returning to her Dreamhouse.
But Taylor surprised us all when she announced the day after her premiere that her movie would open a day earlier, not October 13th as expected.
So I went from no presale tickets for me to Swiftie bragging rights–I got to go to opening night and had a private screening. I was dancing on my own. There were no obstructions: no karaoke/standing among theatergoers and no lines to contend with, even for merch.
Of course, me scoring tickets to see Taylor Swift is so last year. But going to a Taylor event without the crowds of Swifties did help level the playing field–it made Taylor more real. Otherwise, we'd be comparing plastic with an untouchable person.
So, thanks to that early opening that most Swifties are pretending didn't happen (the movie was sold out on October 13th at Bryn Mawr Film Institute, so the next day was business as usual), this is not about shaming anyone.
Speaking of what this is not, that might be the easiest way to compare Barbie and Taylor. This way, there's no look what you made me do–no one gets hurt.
It's not about the money.
Barbie was the summer's smash hit, reaching over $1 billion; Taylor Swift: The Eras Tour is already the top-grossing domestic concert film of all time after the first weekend.
After what Taylor did for the economy with all her Swiftie fans from the Eras Tour concert, racking in the billions, let's do ourselves a favor and stop while they're both ahead.
They both aren't hurting on the money front.
It's not about the merch.
There's merch either craze you fall for. I stood in line with my daughter for 4 hours to buy merch the day before the Eras Tour concert, only to drop my daughter off to college and see Barbie school spirit gear in the student stores. All the college stores added Barbie pastels to their racks.
And then Deja vu with Taylor selling merch for her movie before it even came out. And now that the film's here, people are reselling the concession stand merch (the popcorn buckets are sometimes different depending on where you live) and jacking it up 13 times the price online.
Swiftie's will be Swiftie's, and Barbie's will be Barbie's.
It's not about the men.
Barbie helped put Ken on the map. The "Kenough" movement is now confirmed, helping redefine males' perceptions of masculinity.
Though pink has crossed borders for years, there's the male toxicity component to the Kenough stuff. And it all crescendos in the Barbie movie when all the men must prove (okay, perform) their masculinity with one last musical number.
Of course, it's toxic how males view themselves as having to be all male all the time.
Taylor Swift puts those males to toxic shame as she wows us with her entire musical repertoire from The Eras Tour, which wipes away all memory of Ryan Gosling's number.
Luckily, we're not making Ken do a face-off with Travis Kelce. Now, Travis is not wearing a Kenough shirt or wondering what it means to be male, especially with Taylor Swift in the stands.
But the "boys will be boys" mentality is learned, not innate. If Ken can know what it means to be a modern man, what will become of the likes of football players like Travis?
These icons (whether Barbie or Taylor) rock our world. Does it matter to what degree they're doing so?
It's not about the marketing.
Or are we getting closer to the truth here?
If Taylor hasn't taught us, women, one thing, she's taught us how to market. She's built up the craze that Barbie started before "1989."
In 2023, we're not playing dolls anymore–we're dressing ourselves up and wearing pink when Barbie's in town or whatever Eras Tour album we want to go as when Taylor Swift plays in theaters.
Before, we could only bop along to Cinde Lauper and sing "Girls Just Want to Have Fun" and dress how Madonna made it fashionable for us to dress.
Now, we can dress in pink or any color associated with a Taylor Swift album, even if we're going to the movies. We can make ourselves whoever we want to be. Barbie helped us to pretend that Taylor makes us feel that.
Now we're getting somewhere.
It's about the momentum!
Barbie made us believe we could rule the world. Taylor makes us watch how she rules the world. And now we're starting to catch on. Yes, there's a place for the rest of us women, too.
Taylor built her empire on the Barbie momentum behind her. Women are embracing the idea now–let's do things our way.
So we're all in for the craze, whatever it might be. Bring it on. With Barbie, it's the pink carpet, cocktails, and platform boots. With Taylor, it's every color associated with an Eras Tour album (and remember the friendship bracelets).
Women and girls aren't stopping there. We dress up whenever the occasion arises. Mean Girls (pink), Beyonce's Renaissance concert movie (glittery silver), and not to get lost in yesteryear, Madonna will be touring in December, too.
She taught us how to reinvent herself before Taylor came into the picture, but not before Barbie. What are you going to wear for her concert?
Whether Taylor/Barbie doesn't rack in more cash as Barbie/Taylor, they're both loved.
Barbie made us like pink even before we knew girls were supposed to like pink. And Taylor made us become Swifties before we knew what that would mean.
Barbie is an icon that Taylor might have even played with as a kid, an icon that made Taylor believe she could be a pop star.
And so we're believing, too. We aren't just singing into our hairbrushes-microphones about how girls want to have fun; we're out there having a good time and dressing up, showing we women have come a long way. Whatever Barbie and Taylor can do, we can almost do, too.
Even amid all the furor about Barbie being politically incorrect and the Barbie burning episode, women have worn their pink proudly.
If Taylor Swift can make music out of her ex-boyfriends and sing I'd be the man, looking anything but a man, no one can rain on Barbie's parade either.
Barbie started it, and Taylor built upon the momentum that won't stop.
And you know what this means?
Pull the pink carpets and roll out the red ones; we're just in time to join another craze.
Hold onto your theater seat and wear comfortable shoes. If you're going to see Taylor Swift: The Eras Tour Movie, you'll relive the entire concert filmed on location at SoFi Stadium in Inglewood, CA.
Yeah. Right.
Is this about ditching the Barbie craze when we're still in its aftermath and becoming a Swiftie again? That would be so shallow, and we won't do that to Barbie.
Barbie always has her place in our hearts, just like Taylor.
But now Taylor's playing.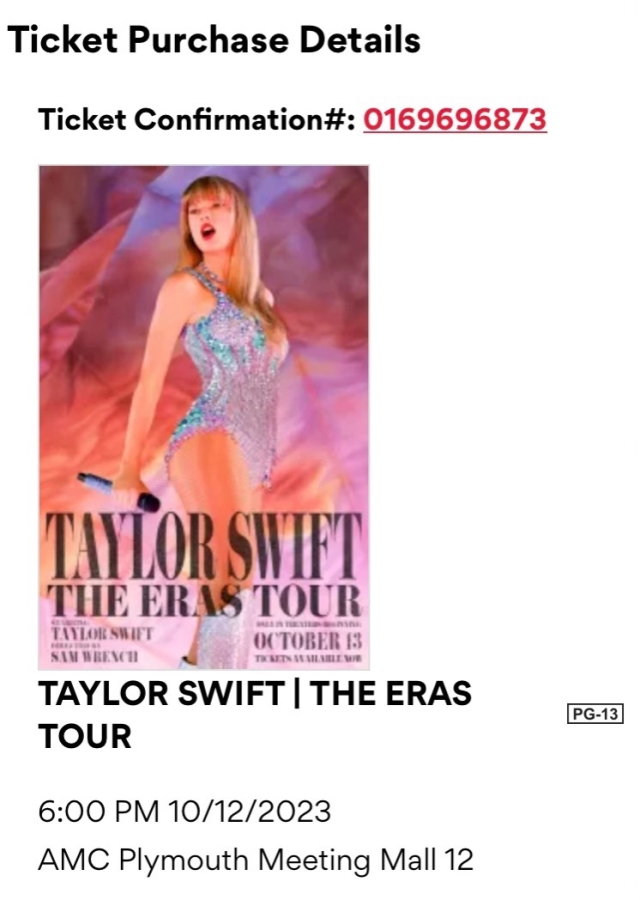 Do we want to be reminded we didn't need to go to the Eras Tour if we were going to go to the movies instead? Or that we didn't need to buy presale tickets when we could go on October 12th?
What matters is the momentum that these icons have taught us to make believe until our dreams come true.
And until we make those dreams come true, we'll make believe with Barbie as we dress in pink, and when Taylor returns in her pink dress looking like Barbie singing Lover, we won't be afraid to show our Swiftie side.
And if Barbie should come back with a sequel, or if Ken and Barbie should reunite in, let's say, the Ocean's 11 prequel, we'll be okay with that.
We'll let Barbie and Taylor duke it out in all their feminine glory–redefine what it means to be feminine for the rest of us. The winner gets to dress up and go to the movies; how about that for a night out on the town? And we'll be there to make a night of it, too.