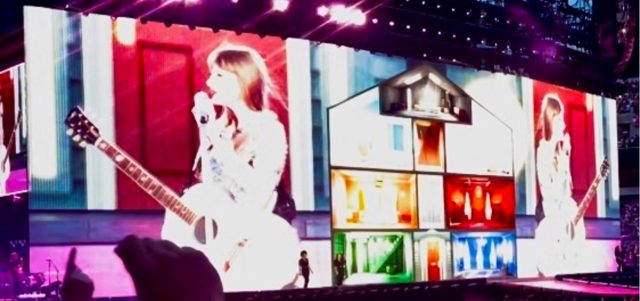 THE ERAS TOUR (PHILLY'S VERSION)
For one weekend, Taylor Swift burned down the house at the Lincoln Financial Field and turned Philadelphia into the City of Taylor Love.
"Ninety Swift Five" (96.5 FM) played non-stop Taylor Swift for four days while renaming us "Swiftadelphia."
Even Howard Eskin, our beloved Philly sportscaster and radio personality, typically seen in the Lincoln Financial Field for Eagles games, wore his playoff ring (that legend has it that Taylor Swift happened to put on her finger once) and his "It's Me, Hi, I'm the problem" T-shirt to Friday night's concert.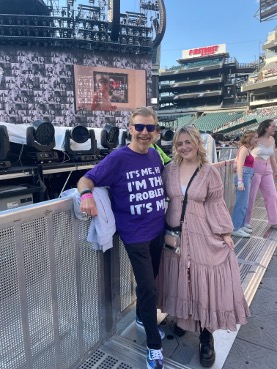 On Saturday morning, he played Taylor Swift songs when he went into commercials and breaks on his sports podcast.
Howard said on his podcast and again to me on the phone Wednesday, "The energy in that stadium was like no other sporting event, including championship games, except the Super Bowl."
He scored two more chances to see the concert Saturday wearing the black Era's tour T-shirt and Sunday night, wearing the cream version.
When the gates opened each day in the plaza area, he said, everyone raced to the merch tents like they were giving something away for free to stand in those lines.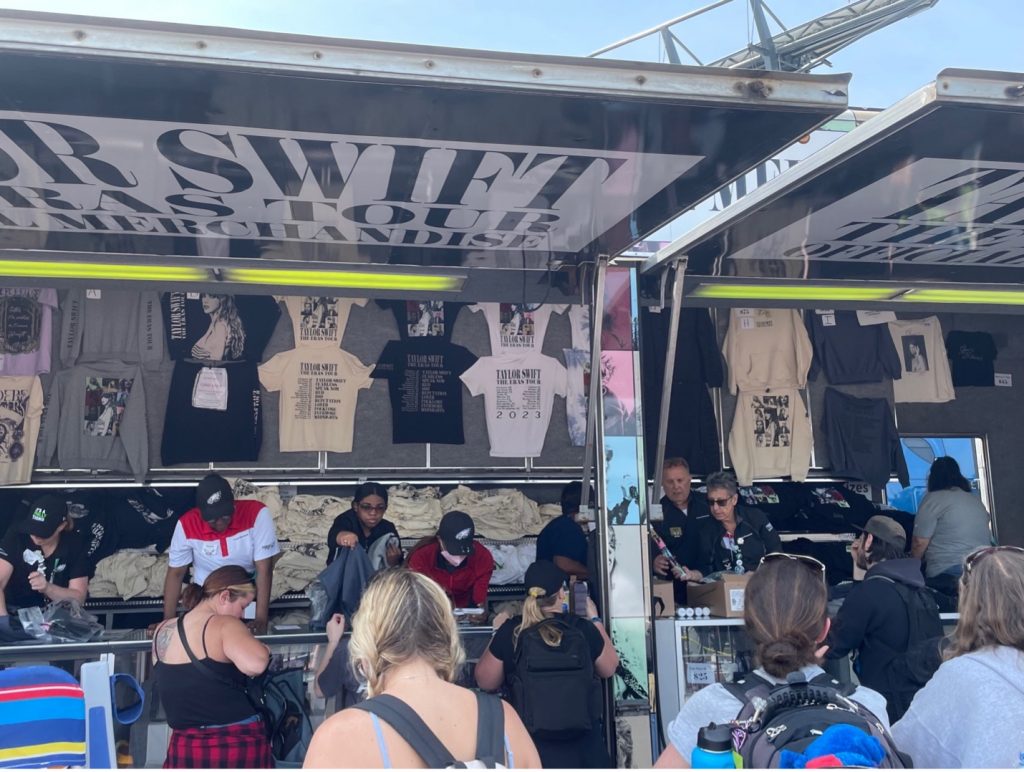 He wore the same merch that my daughter and I waited for 4-1/2 hours to buy on Thursday. And we all ended up buying the crewneck that was so popular they were marked up online for $300 and completely sold out by Saturday.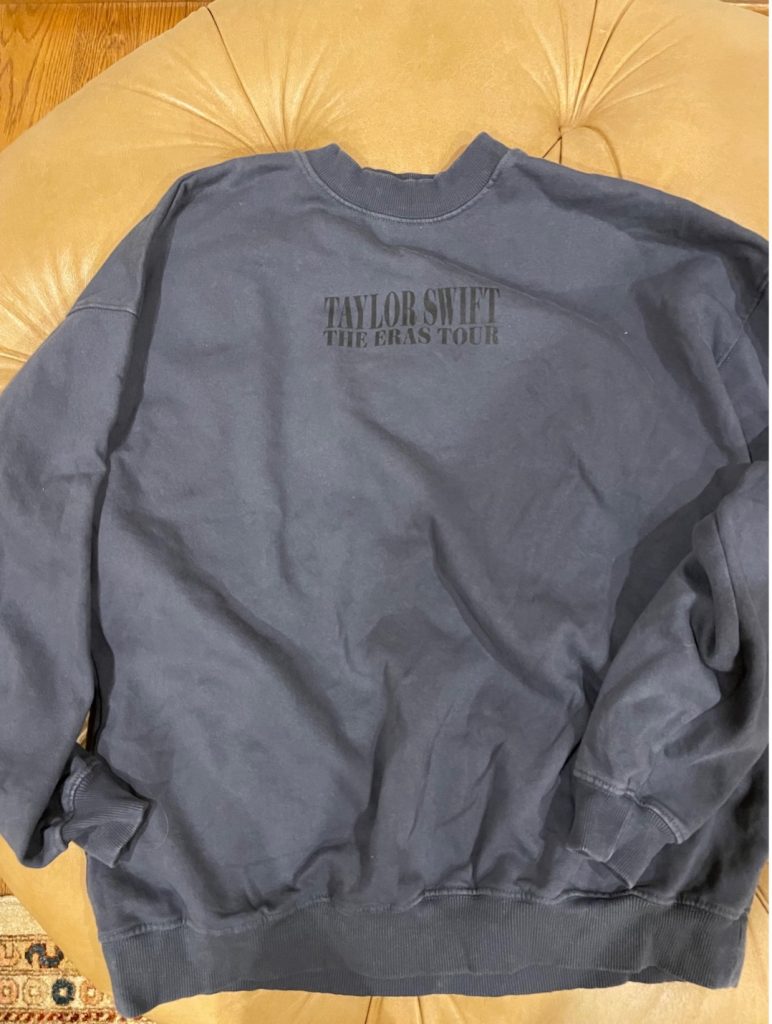 Regardless, Taylor performed for 10 hours in Philly leaving us all to wonder if we're all just a figment of Taylor's imagination.
Seventy thousand gathered in Lincoln Financial Field every night, not to be outdone by the 100,000 spotted on 11th Street Friday night between Wells Fargo and Lincoln Financial Field.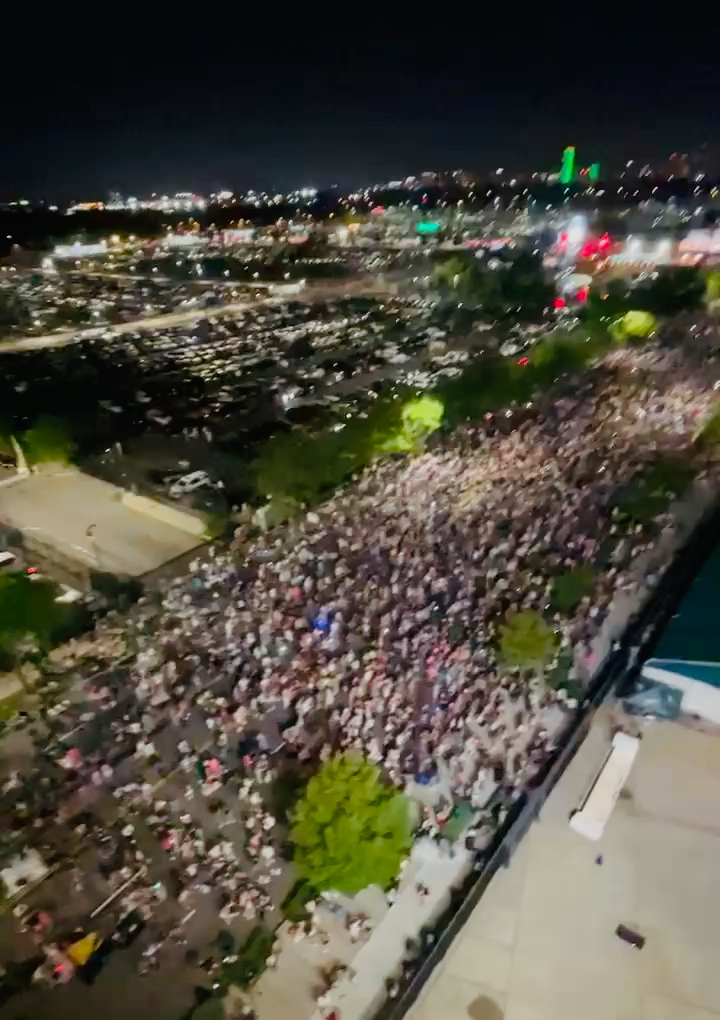 While our heads are still spinning with numbers, a manager for Taylor Swift said the ticket demand was so high for this tour Taylor could have had 255 more sold-out shows.
I count myself one of the lucky ones to have spent three hours and fifteen minutes with Taylor Swift on Friday night.
Now she's a distant memory–off to burn the house down in Boston.
Sunday night, one of the surprise songs was "The Best Day," fitting because Taylor's left a lot of Swifties wondering if the night they attended, or weren't able to go, was the best one, not to mention she got her mom to cry on Mother's Day.
But what was the best concert? What would it be if there was only one night you could go?
Having been to all three, Howard explained, "There was no best night. That's an impossible question to answer. If I picked one, I'd be slighting one of the other two." She gave as much energy to the first show as she did to the last. He explained if you had a recording of both nights you wouldn't be able to tell which night was which.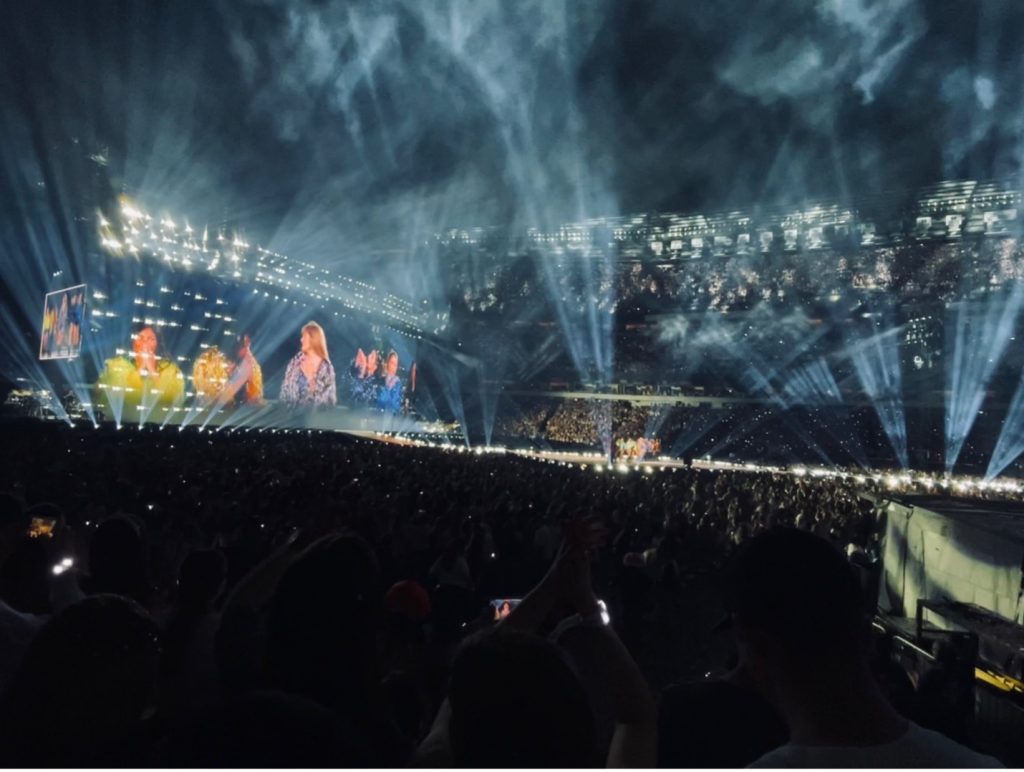 Though, on that last night, she performed 10-15 minutes longer, so that might be the answer.
But what if you couldn't get tickets or go for the parking lot K/11th Street Avenue sing alongs? You're as much of a Swiftie but feeling ever so left out.
With the help of my daughters, they turned me into a Swiftie as best as they could. I took the girls to see Red and 1989 when they were young, but then I dressed like a Mom. Now I dressed like the Midnights album in my electric blue lamé pants, while the other Swifties bared a lot more (or less) with their flowy dresses, cowboy boots, sparkles, bodysuits, and mid-rift shirts.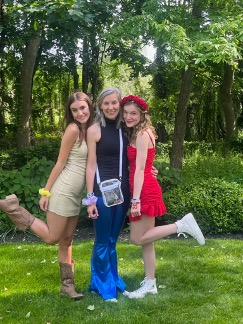 But then the lady at check-in said she loved my pants.
I had no friendship bracelets except the four on my wrist, but I enjoyed taking pictures of the Swifties exchanging theirs when this stranger turned to me and asked, "Would you like one?" I said, "I don't have any to exchange, and she said, "That's okay. I have a lot."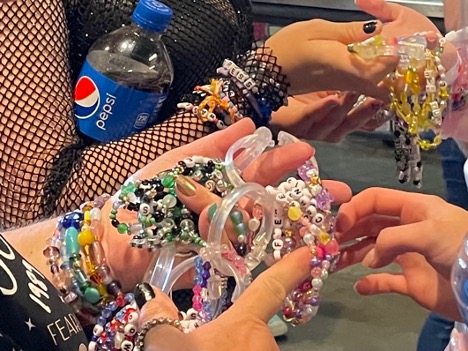 That was so nice. Did that happen? Did any of it happen?
But then you go in line, and two cheesesteaks and two bottles of water cost $50, and my daughter got bottled water minus the cap. They unscrewed the top and threw it away. You realize it's a capitalizing world where Taylor's concerned, but Swifties don't seem to notice.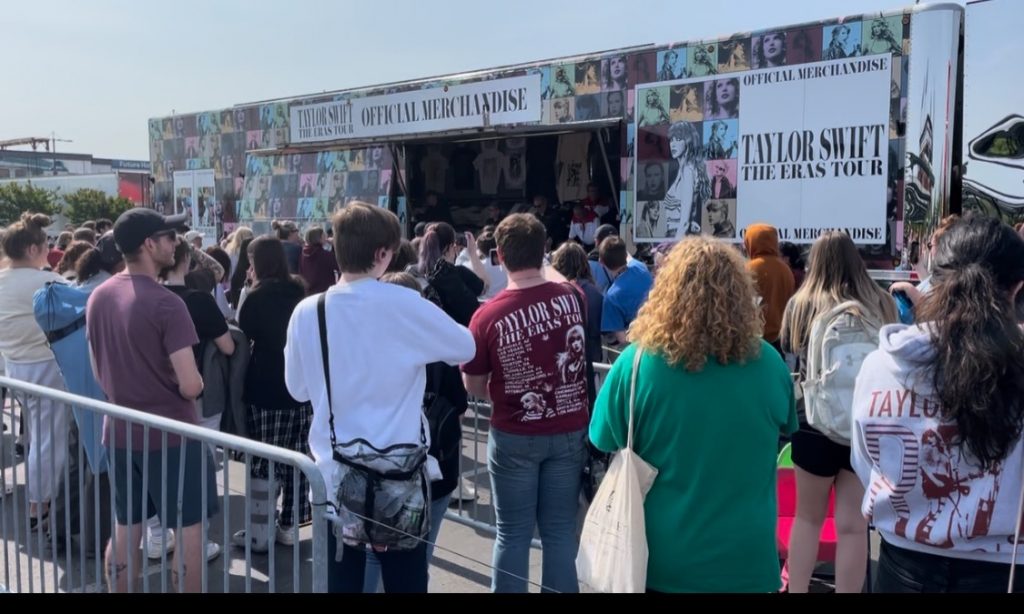 They make lemonade out of lemons. If there's an insanely long line to the women's room, they'll form a line to the men's restroom instead. Whatever is going on around them, they don't complain.
Maybe because a stranger gave them a friendship bracelet–how could they complain when Swifties are so lovely?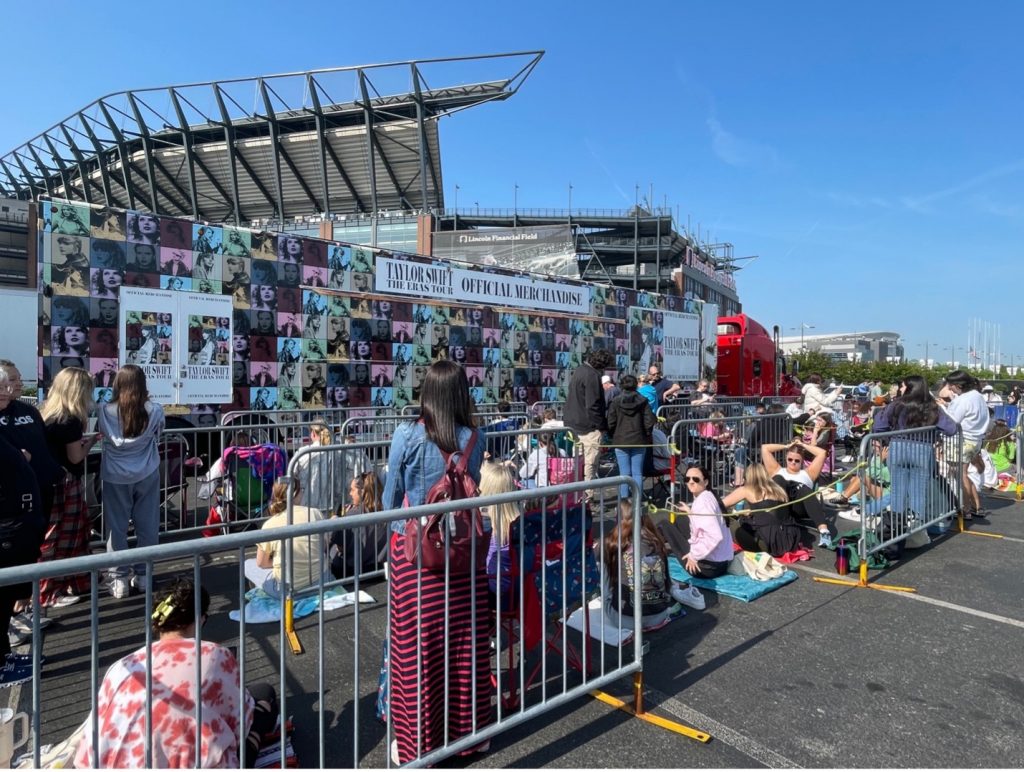 I agree with Howard, these fans really are different than any other fans in the world.
But the Swifties are a cult. Right? I asked Howard; he wouldn't let me call him Mr. Eskin, and he said, "It's clearly a cult, but cults are not as big as this. This is like ten cults put into one."
And as my daughter, who's a songwriter at Belmont University in Nashville, said, "Yeah, but they're a nice cult."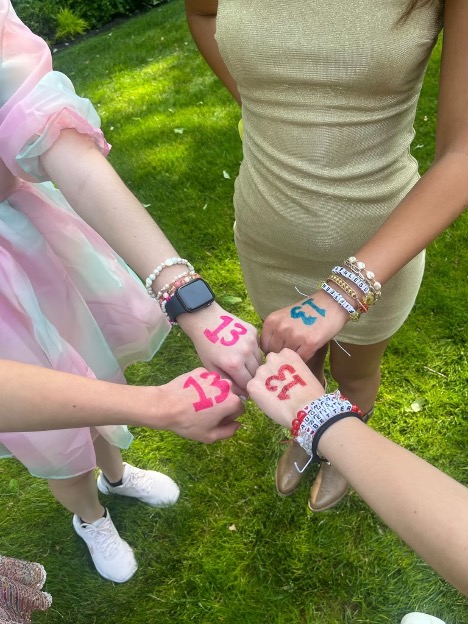 But you want to know about the concert. Our seats were behind the VIP tent, so Swifties pointed and screamed, "It's Sabrina Carpenter! It's Blake Lively and her two kids! No way, It's Phoebe Bridgers!"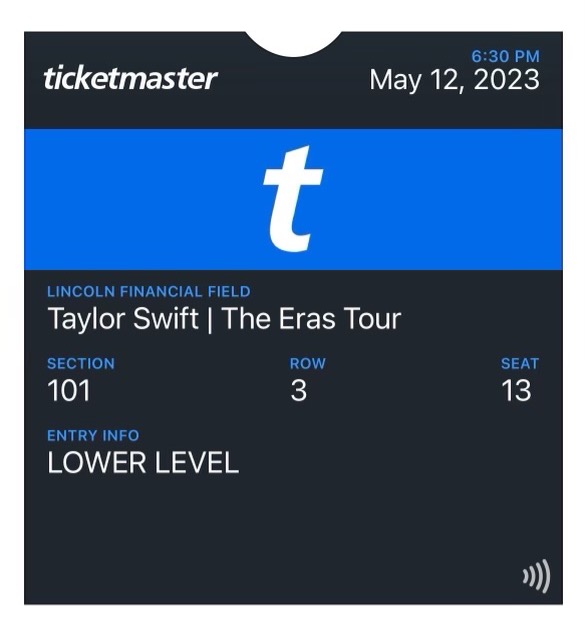 I was there to make sure none of the other Swifties passed out.
And then, the moment we'd all been waiting for, the Eras Tour was about to begin. A massive clock with a two-minute countdown got our hearts racing. She was going to start precisely at 8 pm—the suspense.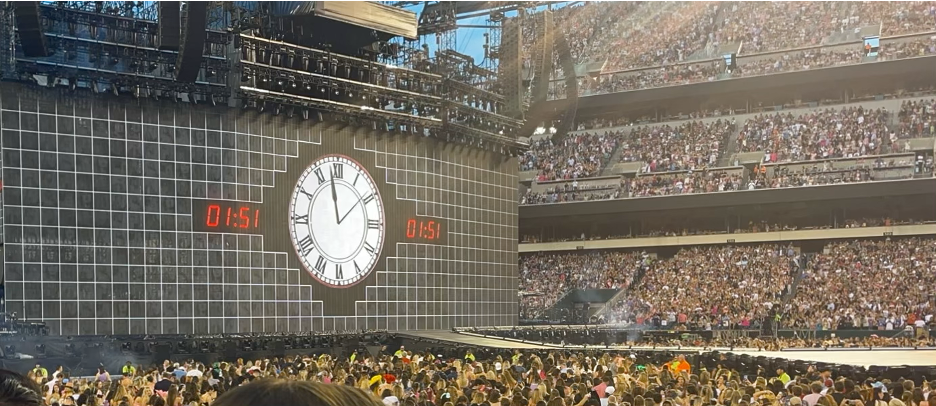 Only I hadn't memorized the chants, and except for standing in the merch line, I hadn't spent any time figuring out what this Eras Tour was about.
And this is where it all led: the tay-gating, merchandise trucks, friendship bracelet exchanges, Taylor all the time on the radio, dressing up as your favorite album.
My heart pounded in my chest, and I ensured my phone wasn't shaking, only to have the girl beside me tap me on the shoulder and say, "Excuse me. You're not recording."
The concert was that unreal, I forgot to record it. I noticed the stadium luminescing and remembered to turn on my light-up bracelet.
When 8 pm struck, and the clock disappeared, the stage filled with these butterfly-like parachute creatures strutting down the runway. But there was also the massive screen with all the graphics not to be missed.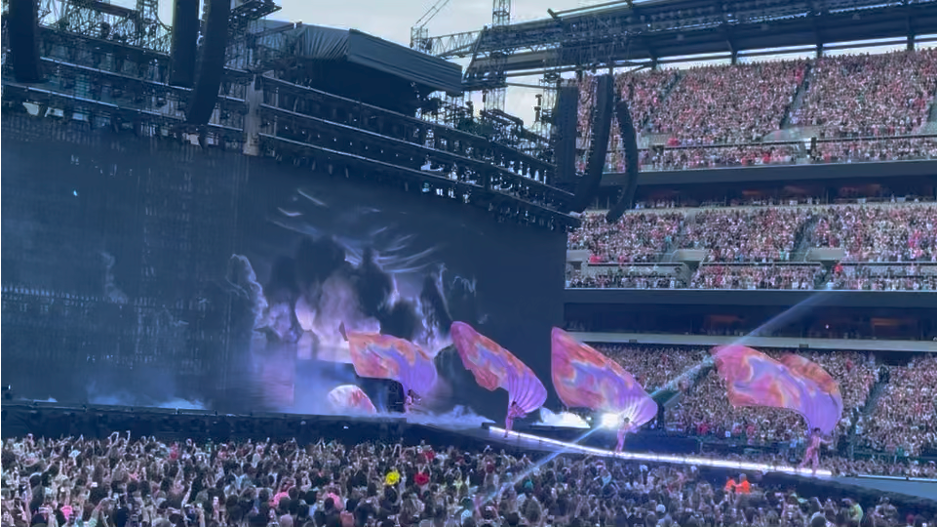 The graphics were insane, like we were fantasizing the world's biggest music video, and it came to life on the stage.
At times, the stage looked like a guitar, a runway, or a UFO; there was water, fire, trees, and clouds, but most importantly, there was a graphic of a house, and that explained it all…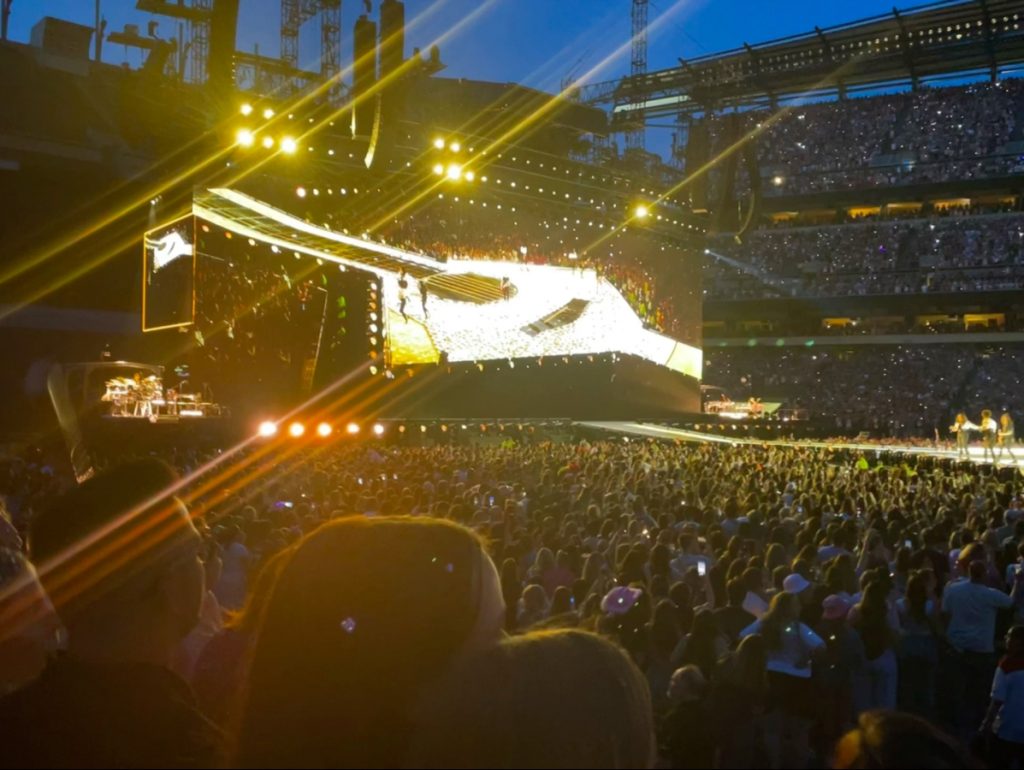 The house's rooms represented all the albums of the tour–the various musical eras of Taylor's life.
But she sang 44 songs from seven albums (1989, Red, Reputation, Fearless, Folklore, Evermore, and Midnights) to take us through this musical journey. Since the fans were privy to the playlist, everyone had memorized the lyrics to every song. And when Taylor sang her two surprise songs every night, the Swifties knew all the words then, too.
One of our surprise songs on Friday night was "Gold Rush", which Taylor performed as a personal tribute to Philly (she was in fact talking about our football team, not the band). Everyone in the audience shouted along "My Eagles T-shirt hanging from the door".
It was the most insanely expensive night of karaoke of every Swiftie's life.
Finally, after an hour of standing, I sheepishly sat between set changes–even though Swifties don't sit.
How could Taylor perform this concert three nights in a row if I couldn't even stand for one?
But Taylor thanked us for getting there; however we made that happen. And we watched the house burn down and felt the heat as real fire poured out around the stage. The structure of the house stood with the rooms charred.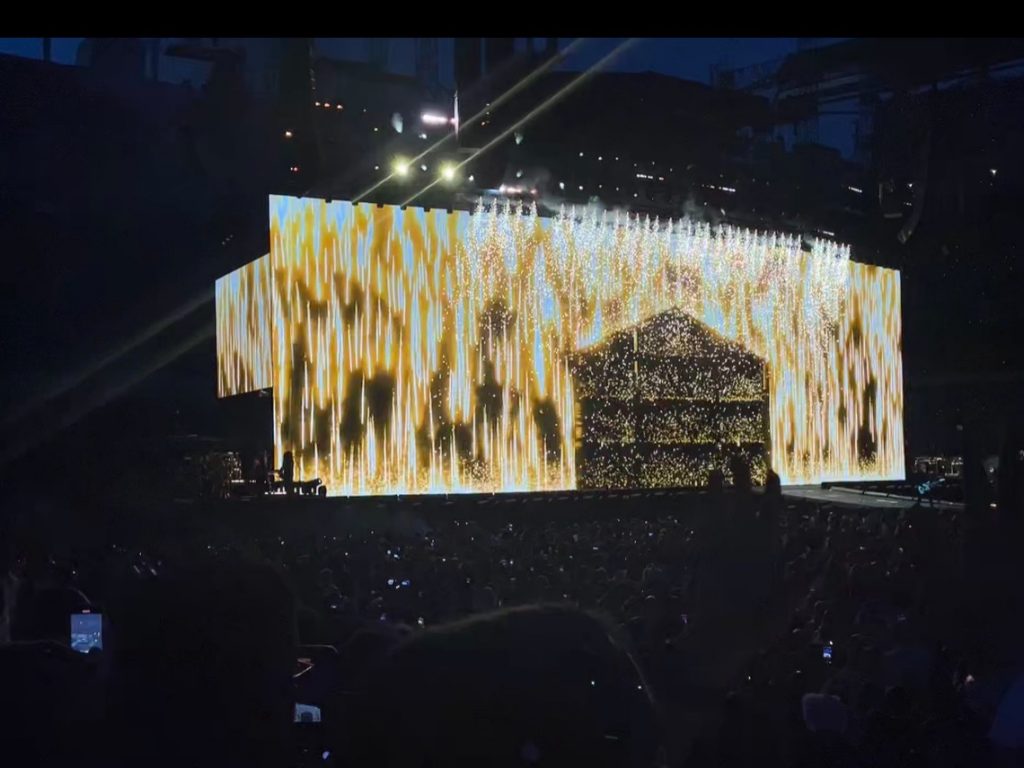 It's symbolic. The old version of Taylor, controlled by the record labels and the music industry, is dead. Taylor burnt down that house, but she's building a new era with artistic control and management rights, with her Swifties' support, of course.
She thanked us for helping her to do what no one in the industry believed she could do.
Maybe it was all a hallucination or something so grand that even Taylor doesn't know what she's done, or perhaps it's a massive, nice cult.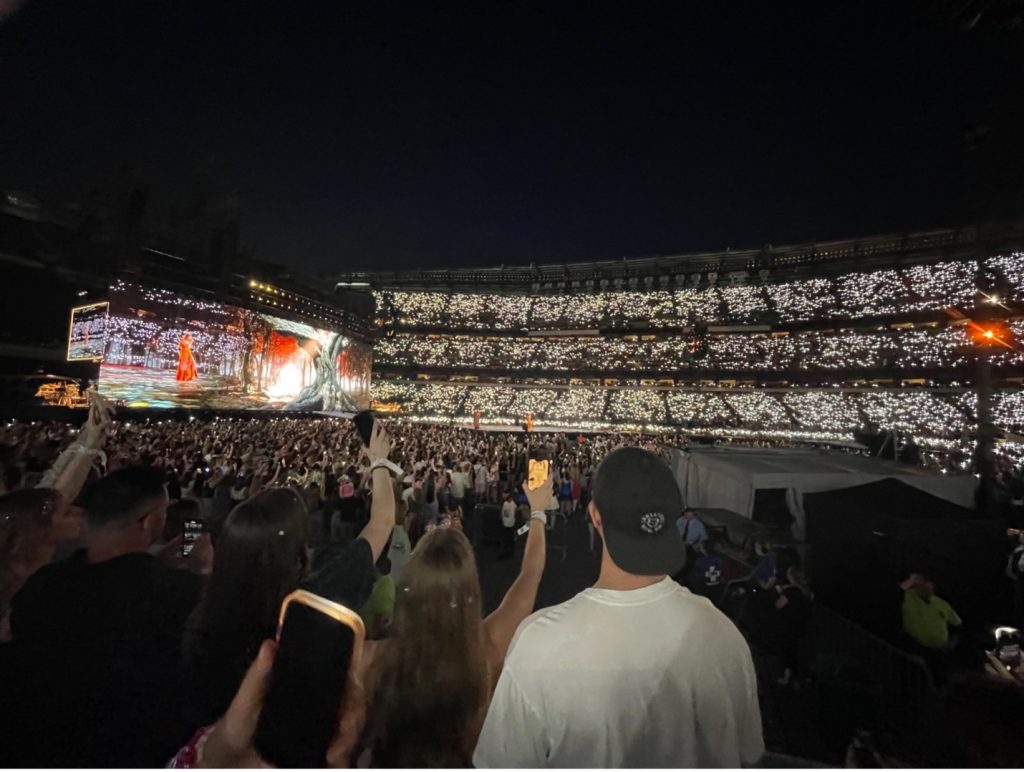 Regardless, she's left us all singing, "I had the best day with you today."
By Stephanie Ortiz