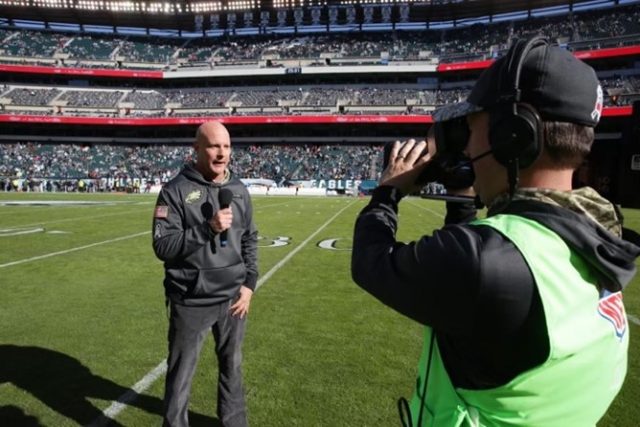 4 & O M G !
By Carmen Greger
In our newest weekly column, we get the in-season inside scoop with 'Eagles Insider' Dave Spadaro. I had the great pleasure of interviewing him just after the Eagles claimed their fourth victory of the 2022/23 season, leaving them currently undefeated at 4-0.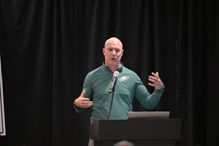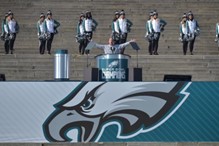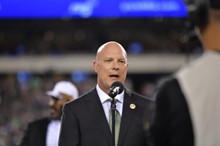 PF: 4 & OMG, Dave! The Birds are on a hot-streak and Philadelphia is all fired up!
DS: 'The Eagles are 4-0 for a lot of reasons and winning the turnover battle each week'.
What have been the highlights of this season so far as you see it and what's to come?
DS: In general, the highlights are just seeing Jalen Hurts show that he is a complete
quarterback and that the offense can be a high-powered, fast-scoring machine that
can win in a variety of ways. The specific early-season game that comes to mind is
the win over Minnesota, Week 2, when the defense really showed how good it can
be as it shut down a very good Vikings offense. Right then, you knew the Eagles
could have something special going on.
PF: What's so different about this season compared to last?
DS: Many things. It's the second year with head coach Nick Sirianni so the team is far
more advanced than it was in 2021. The offense added a second star receiver in A.J.
Brown to complement DeVonta Smith. The defense was overhauled in the offseason.
There is a lot more star power, there is a lot more confidence and it shows with how
the Eagles are winning games in this first half of the season. Now the trick is to
sustain it. Last season the Eagles were 2-5 and won 7 of their final 10 games. This
year? Stay tuned.
PF: Why were you first drawn to reporting on Philly football?
DS: I started doing it college. Went to Temple University and jumped right into the
business and by the time I was a Junior in school I was working in the business so I
just kept going from there!
PF: What was your childhood like… schools, activities, upbringing, family, personality,
goals?
DS: Normal, suburban childhood (West Chester). Played a ton of sports and always
envisioned myself being in the sports business. I wanted to be "the next Merrill
Reese." Close, and certainly honored to call him my friend.
PF: What higher ed schools did you attend and are you still affiliated with any of
them? Please explain.
DS: Temple University. Majored in, ahem, Radio, Television and Film there in the
School of Communications. I'm not specifically affiliated with them other than I
support the school and host many students who want to get into the business.
PF: As a youngster, would you ever have imagined you'd be where you are, doing
what you're doing today?
DS: I dreamed this exactly, so, yes.
PF: Congratulations on actualizing your dream. Who is your favorite teacher of all time and why?
DS: Thank You. Bob Brinton, an English teacher in high school. He was great with me at West
Chester Henderson High School. Words are my gift and numbers are something I
could just never handle so I think I went the correct route.
PF: Give us a day in the life of DS….
DS: It's basic, to me, anyway: Wake up, get to the office, start into the process to
create content for our Philadelphia Eagles platforms, and that includes writing,
broadcasting, podcasting, interviewing, hosting events. It all happens nearly every
day – interviewing players and coaches, hosting events. We're at the NovaCare
Complex and it's like a big family and we all work together to do what we can to
connect the fans and the team and connect the players and the community. Literally,
it's all Eagles until the day ends anywhere around 6 or 7 p.m. Then I get to the gym
here at the office and work out and head home. Fun days always.
PF: Tell me about Jeffery Lurie…..
DS: He's a kind, compassionate, big-pictured man who really respects people and the
community. I've known him since Day 1 and he's a brilliant guy who is smart enough
to let the people around him thrive in their roles. He supports everything we do and I
think the results speak for themselves. The Eagles are one of the most successful NFL
franchises since he's been here.
PF: Nice. Ok, so what one word comes to mind when I say 'Jeffrey Lurie"?
DS: Gracious
PF: All time fave Eagles player and why?
DS: It's hard and probably not very fair to pinpoint but I will say Troy Vincent, a former cornerback here who is in our Hall of Fame. Really smart guy who was a great player and who
also understood his platform. Same with Malcolm Jenkins. I've enjoyed talking with
those two more than any players, probably. Troy is a Senior VP with the league and
he's a gracious and kind man who totally gets it.
PF: All time favorite Eagles coach and why?
DS: Well, Doug Pederson won the Super Bowl here so there's that. I have
tremendous respect for the coaches. They sacrifice a lot of their life in this profession
and that's really an interesting perspective to have.
PF: Best all-time NFL player and why?
DS: Reggie White. The best, game-changing player I've ever seen.
PF: Best all-time NFL coach and why
DS: If it's not an Eagle, I'm not saying.
I don't want any other team to win!
I'm an asshole that way!
PF: Best play of all time that you can envision clearly…
DS: Philly Special in Super Bowl LII. C'mon. That's an easy one!
PF: If you were to play a position on the field, what would it be and why? If you could
choose any jersey number, what would it be and why?
DS: I would play running back. I love the vision and the creativity running backs have.
I love the glamour of it. I love the way they have to work to have success. Number 3
is a Spadaro family thing so that would be my jersey number.
PF: You have the dream job of many… What's the best part of the work you do and if
you were not the Philadelphia Eagles' Insider, what would you be?
DS: Winning is honestly the best part of my job. That's what we are here for. I would
also say that connecting with the fans is very special for me. At the end of the day,
providing something great for fans is something to treasure.
If I weren't here, I would be in the world of communications, probably. Again, words
are my strength. Although my sales game is catching up …. I've turned down other
jobs, great jobs, because I enjoy the team atmosphere so maybe something in that
realm. I've been doing this since I was in college. I always find it interesting to hear
what jobs people have. I'm like, "That's a job??!?!?" I never knew …
PF: Are you affiliated with any charities or outreach programs, as an Eagles affiliate
and as DS, the man? Which and why?
DS: Eagles Autism Challenge is the main one. When I was raising my family, I was very
involved with the community and kids' sports. I live in Philadelphia now and the kids
are out West so I'm working on doing what I can with anti-gun programs and anti-
violence programs in the City.
PF: What are your favorite hobbies and extra-curricular activities?
DS: I love being active – tennis, bicycling, gym work and stretching. I'm constantly on
the move and when I'm not I read and then fall asleep very quickly!
PF: Top Ten songs/artists on your current playlist…
DS: I will give you what I'm listening to, it's very simple and probably incredibly
boring but here we go: Pandora stations for Imagine Dragons, Halsey, New Order and
Toad The Wet Sprocket. And I listen to a ton of Podcasts – lots of politics,
relationships, motivation, wellness and some comedy.
PF: Best movie you've ever seen?
DS: That's like asking an Elephant the best peanut it has eaten … I'll go with
"Gladiator" only because I'm in that kind of mood right now with the season going
on and I'm in a super-competitive mood right now.
PF: After multiple recent on-field concussion situations, Dr. Bennet Omalu urges the
NFL to progress NFL protocols regarding concussions. As you see it, what should the
modifications look like?
DS: I'm not particularly interested in offering a detailed opinion because it's a changing
landscape and it's not my area of expertise. Clearly, player safety is a priority.
Seeing players struggling with cognitive basics not long after they've finished playing is very
difficult for me to see. I respect these players so much for their courage and their
athletic ability to have a career while they can.
I mean, I'll go here: It's all about the helmets. That's the cause of so much of these concussions. Think about it: The dimensions of the field haven't changed – ever. Yet look at the dimensions of the players and how they have changed through the decades. The players are bigger,
faster, stronger and it's a more dangerous game and the helmet is used too often as
a weapon.
PF: If you had to create a movie about you, your experience with the Eagles and on
football in general, what would you call it and what would it be about? (I dare
you)
DS: Yeah, geez, I don't know. I'm a very team-oriented guy. I don't think that what I
do is all that interesting from a movie standpoint. We'll call it "Fly Eagles Fly: An
Inside Look At How A Team Works" and what you would find is that to achieve
success (in anything that anyone does) you have to work together as a team and
everyone has to be swimming in the same direction. The team success comes first
and then the individual success follows. It's a metaphor for life and I wish society
would work like this. We would all get a lot more accomplished.
PF: What else does Philadelphia and the world need to know about David Spadaro as
a man and about the work you do with the Eagles as both a team and an
organization?
DS: I don't know that there is a whole lot else to know because everything I do is very
public. I love my job, continually challenge myself in the job and have enough healthy
angst to keep myself at the very top of my game.
PF: How can readers best find Dave Spadaro and The Eagles?
DS: Throughout all of the Philadelphia Eagles platforms – PhiladelphiaEagles.com,
our official team app and our social media channels. I'm all over the Philadelphia market.
It's fun being Mr. Eagle.
I love the daily grind and then the sheer enormity of game days/nights.
It always amazes me how the fate of the Eagles impacts the
Monday mood in the City. A win and everybody is happy!!!
A loss and … better luck next week!
PF: Well, Philadelphia's in great spirits now; here's to maintaining Good-Mood Mondays!
DS: Absolutley!
Eagles, 1st in NFC East (4-0) play the Cardinals (2-2) Sunday 10/09 at 4:25 EDT