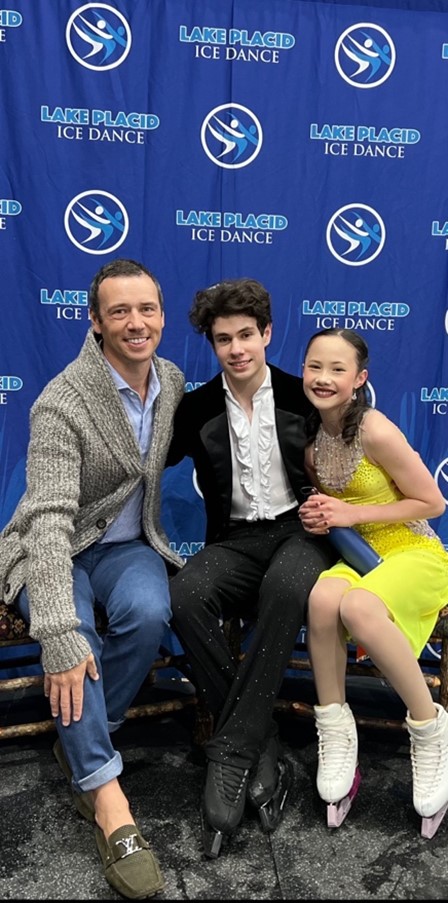 An Interview with local, internationally renowned coach Slava Uchitel
By Carmen Greger
How long have you been coaching and what are your specialties?
SU: I started my coaching and teaching career in 1992. I fell in love with the sport of figure skating from the moment I saw ice-skates. Ever since then and for as long as I remember, I always wanted to be a coach. I work with all the ages and levels of skating, from learn-to-skate groups to competitive athletes and of course great group of adult skaters, a community of adult skaters that we are lucky to have at Philadelphia Skating Club. My primary goal is to give them basic knowledge in the beginning of their ice-skating experience, but the long-term goal is to make them fall in love with this beautiful sport and enjoy the life-long activity of figure skating; I want them to love what they do and do what they love!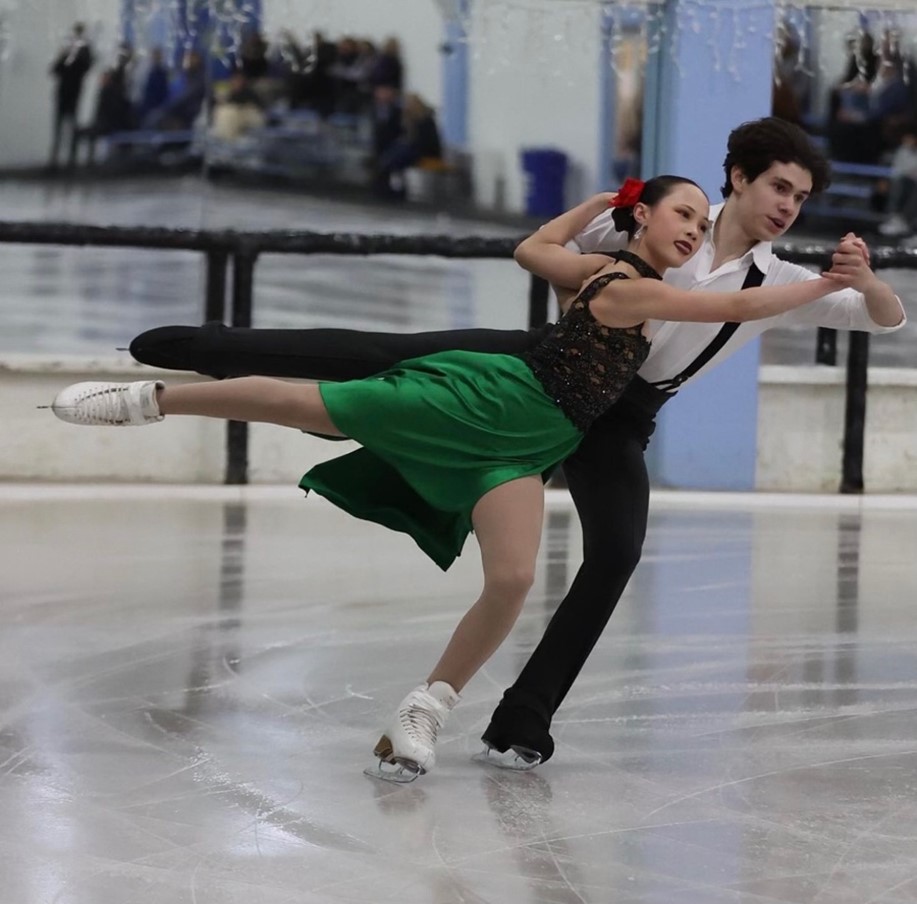 PF: How, when, and where did you become interested and get involved in skating and
SU: I grew up in Odessa, Ukraine (it was then still Soviet Union). I started skating 1979 and my family was fully supporting my skating, since figure skating was such a popular sport in the USSR.
PF: Why did you become a coach and what is the best part of your job?
SU: As a young skater, I had the opportunity to be skating with the greatest stars and coaches of the USSR and I learned from them each and every day as they were working on their craft, becoming the best in what they love to do. I was always admiring American figure skaters, and every opportunity I had, I'd glue myself to the TV and watch their spectacular performances. I'd be thinking: "If I ever have the opportunity, I would love to be teaching and sharing my knowledge of figure skating in the USA."
Since 2000, I started working in the oldest figure skating club in America, Philadelphia Skating Club and Humane Society. From day one I fell in love with the club, the History of the club, the location of the club, and all of the people that I meet there on an everyday basis. I have loved it from day one and I love it more than ever, 22 years later.
PF: How long have you been coaching Blake and Julia? What a dynamic duo!
SU: In the last 8 years I was given the opportunity to be a part of the development of a young and promising ice dance team; currently on their first junior year in ice dance Julia Epps and Blake Gilman (13 and 16 years old), US National level medalists.
PF: PSCHS recently held a competition where two of your long time, yet young skaters did very well. Can you tell us about the competition itself and about Blake and Julia's performance?
SU: Philadelphia Skating Club hosted the Challenge Cup in September, a National Qualifying event with hundreds of skaters coming from all over the country in hopes to qualify for the US Nationals event in San Jose, California (January 2023).
Julia and Blake earned a Silver Medal in a very competitive field of ice dance teams, and as I mentioned before, it's their first year competing on such a high level of ice dance (Juniors).
PF: What kind of on and off-ice training do Blake and Julia have (it must be a very rigorous, demanding, yet rewarding schedule, especially when they also have to balance and juggle full-time school/academic achievement into the mix), and what do and what do you see for their future?
SU: Through the years, I have been lucky to be a part of developing young recreational and competitive ice skaters as well as an incredible adult community of ice skaters, with the aim of helping them to achieve their goals on and off the ice.
It takes a lot of commitment and hard work to get there; many hours a week of training, which not only include skating… it's also a lot of conditioning classes, ballet classes, ballroom classes, but this young duo is showing full commitment to each other, supporting one another in the ups and downs of their pursuit of excellence.
Let's not forget ice is slippery and it takes a lot of effort to stay upright, literally, and figuratively. It takes a village of people to help them to be successful, coaching staff that works with them and help them on every step of the way, parents that fully support their training,
Philadelphia Skating Club that provides us with ice facility to be able to train all year around. Julia and Blake are high school students, so they are going to school full-time, and after school, they have full-time training. This rigorous and rewarding schedule teaches them to be very disciplined, be efficient with their time, to get their homework and school activity completed before they go to their afternoon training, etc. From a very young age, they have been learning and applying the qualities of hard work, determination and not giving up when it does not work right away- that perseverance is key, and of course that working as a team is vital, which they both do very successfully.
Also, Julia, 2022/23 season, is the youngest ice dance junior competitor in USA that has entered the Qualifying season; that alone is an outstanding achievement! They both have very successful futures ahead of them!
PF: Who are the top three competitive skaters of all time and why?
SU: I think every decade of skating had their stars and all of them were true gamechangers of their time. All of them left memorable performances, latest 2022 Olympic champs ice dance Papadakis and Cizeron (French), Nathan Chen (USA) ….
Just a small example.
PF: Best Olympic moment you can recall and why?
SU: Every Olympics- each 4 years- brings that uniquely special moment that we will all remember for the rest of our lives; moments like 1998 Olympics Tara Lipinski jumping up and down in the kiss and cry area after getting her score, or 2014 first American ice dance team ever winning gold at the Olympics Davis and White, all of them were very special moments to watch.
PF: If you were not a full-time skating coach, what would your occupation likely be?
SU: The truth is …… from age 10 and for as long as I remember myself, I wanted to be a figure skating coach, it was my always plan A, I never got to another plan.
PF: What advice can you give young skaters looking to excel?
SU: Figure skating is an activity that requires a lot of repetitions and the more time you spend on the ice the better you get; never give up when things are not going your way, and, as long as you try, you will never fail.
PF: What are the top songs selected by skaters for performances, and what's your number one favorite?
SU: Music, yes… of course the first to come to mind is Carmen or Nutcracker, or Swan Lake. But the truth is, you can simply skate to beat of your heart and it can be the most beautiful performance.
I always tell my students … it's not what you do it's how you do it!
PF: If someone had no prior skating experience, but feels drawn to the sport, what is the best way to get involved?
SU: My advice to new skaters is…. Do not be afraid to make first step on the ice, do not wait for another week or another year, do it now …… it's a great activity, great sport, great place to challenge yourself to new heights, that maybe you never thought you can do it, fall in love with this beautiful lifelong activity!
Come to the local rink in Ardmore, PSCHS, sign up for the learn-to-skate program, as there are classes open for all ages.
PF: Is there anything else you would like for Philadelphia and the world to know about Slava Uchitel?
SU: I love everything that comes along with skating. I love looking for new music and search on Spotify or Apple play music. I love watching fashion shows to discover new ideas for ice skating costumes. I love to watch all kind of theater performances, Broadway and visiting museums. I'm grateful to explore and experience everyday opportunities to enhance and share my knowledge and passion for figure skating with my students on the ice and help them to achieve their goals and dreams, and I am truly grateful for being able to be a part of their journey from first step on the ice and beyond.
PF: What do you do in your spare time?
SU: Whenever I do have spare time, I do what all Philadelphians must do…
be the best Philly fan I can be and follow all our professional sports teams.
Eagles especially, 365 days a year!