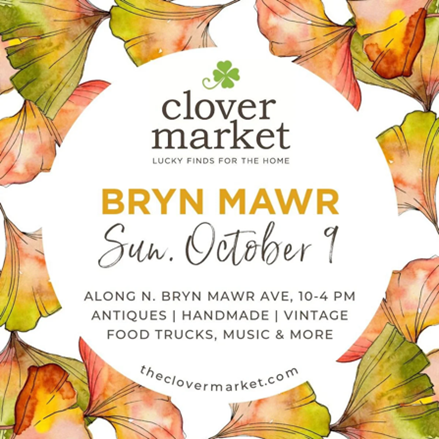 By Carmen Greger
This year's Autumn 2022 Clover Market was a long awaited, much celebrated extravaganza! The weather was absoultey beautiful, the sun was brilliant, not a cloud in the sky, the air was crisp with a scent of Fall and the bustling crowd, adorned with light sweaters, jeans and reusable treasure totes beamed an obvious glow of joy and ease almost as bright as the sun itself!
The sense of relief and delight that this wonderful, family-freindly festival has finally returned since the pandemic had put an unfortunate chokehold on the vendorpalooza, was as palatable as the savory locally sourced, chef-curated daily dishes from the Clean Plate Club, a steak and pepper sandwich from Philly Hots or a slice or two of The Little Sicilian's pizza, and as sweet as the straberry nutella crepes at Bonjour creperie, Sugar Rush's magnifient multi-colored Macarons, a scoop of chilly vegan Honey Bear or a perfect square of Trio.
The Handwork studio was front and center working their pumpkin craft magic with the little ones who gleefully stopped by on their way to Mermaid Ally to get thier faces painted, fall-deco style, while Finding Shelter charmed the crowd with their four legged friends looking for the perfect home and the groovy live music was the cherry on top.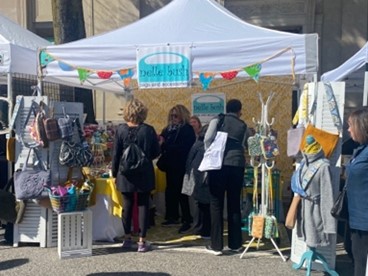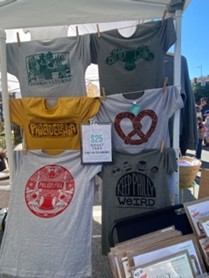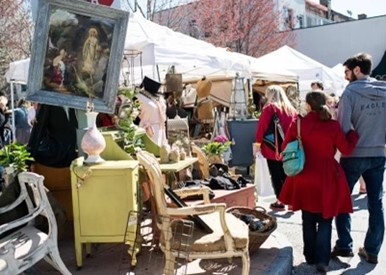 Me & Phoebe's showcase tent (awesome duo), was simply a top priority 'must-do' and we charted our course through the winding way accordingly. We bee-lined past the swarm at Honeybear and there they were, Me & Phoebe. (Actually, the Me may be Phoebe's cat, and I'm sorry to say that I truly don't know the pleasant gentleman's name, because in my mind, he was already the Me). In hindsight, I should have asked; I should have clarified. But it was incredible that as my son and I began chatting and admiring their display and beatuiful attention to detail of all of their work, he said that he remembered us from the event just pre-covid and recalled the spectacular refurbished porch banisters, now white-painted, distressed candletstics that my kids bought for me as an early Christmas gift that day, more than a couple years back. He even commented that my son was now about three feet taller. Wow, impressive, not sure about his exact height back then, but he's now a 6'4" Highschool Senior.
I am writing now on my laptop at my dining room table, the Candlesticks the centerpiece. There's something about them, both the candlesticks and Phoebe & Me, that truly speak to me. They make me happy; perhaps it's the reminder of our ability to be transformed and evolve while still maintaining our roots, perhaps it's about having that innate ability to creatively see the purpose beyond the current form and catalyze the perfectly appropriate transformation, likely both; I've always had a healthy additciton and deep apprecation for potential being actualized and for the facilitators of that process.
Now that I think about it, we will likely head to Kennet Square for a few more of Phoebe's meticulously primed, painted and distressed mason jars that I felt moved to put Fall flower arrangements in and drop off to unsuspecting friends. Perhaps, next week while there, I will make the concerted effort to properly introduce myself to Me.
Founded in 2010, this inpirational down to earth event features a carefully curated collection of small and local boutique businesses offering a wide variety of special selections showcasing unique and captivating quality products. Whether you're into jewelry, fashion, art, road signs, designers, candles, collectors' items, repurposed wood creations, potted plants, Philly Swag, there are always plenty of handmade, cutting-edge, antique, vintage goodies to get, to get to give, or even just to 'window shop' and admire. We found a few wonderfully rare gems to nestle into some upcoming birthday and holiday baskets, and if we weren't on a pre-set timeline due to a late afternoon commitment, we definitely would have shopped until we dropped!.
The food, the music, the people, the weather….delightful! What a wonderful Mid-day soiree.'
If you didn't have the opportunity to attend, be sure to mark your calendar and get there for the Next one in Kennet Square 10/23. PHILLYFLAIR wil see you there!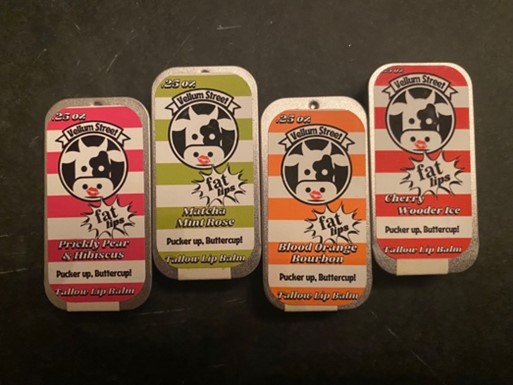 Some of the little treasures we picked up along the way.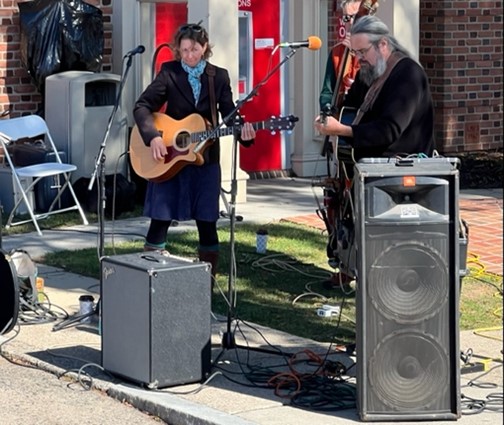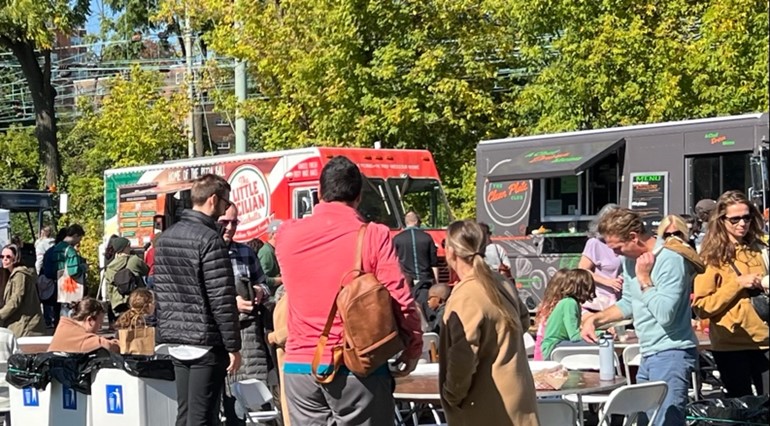 Lots of food, fun and entertainment to be had! (Photos by Remy Greger)