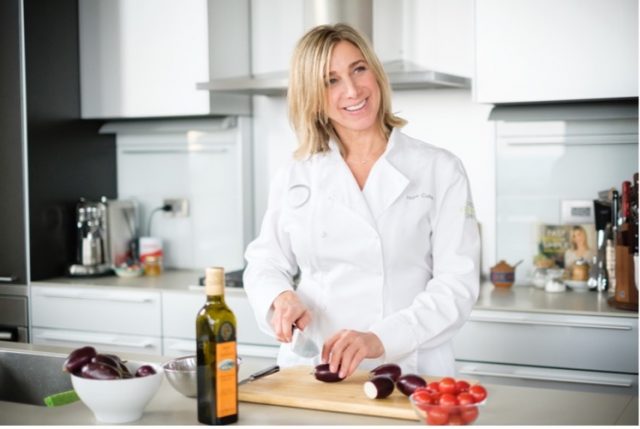 KITCHEN COLLECTIVE
Philly Cooks!
By Carmen Greger
There's no denying that Philadelphia has an outstanding array of elite, seasoned, rich, and colorful native Master Chefs on the menu, stimulating and elevating Philly's palate on the daily.
In this column, we will give you a taste of it all!
We will spotlight amazing chefs revealing their experience, stories, passion, talent, skills, and secrets.
We will share special, flavorful recipes of all types/varieties (e.g. paleo, vegan, vegetarian, gluten/dairy free, offering substitutions and modifications where possible).
We will honor and celebrate all Cultures/Roots (e.g. Classic American Cuisine, Mediterranean, Italian, Greek, Jamaican, Indian, Mexican, Japanese, Thai, Chinese… the cultures and the cuisines- both beautiful and bountiful!)
We will invite and encourage all levels of mastery (aiming to maintain a 'simple prep/simple access' approach, primarily easy to prepare dishes with locally accessible ingredients, with the occasional fun 'challenge')
We will inform you on where to pick up the optimal ingredients as well as give you a vast selection of serving suggestions. (Again, aiming to stay local, fresh, sustainably sourced, and organic).
We will offer suggestions for meals, appetizers, and desserts, for special occasions, anniversaries, birthdays, holidays and more.
We will invite local 'home chefs' to share thoughts on favorite recipes, traditional family foods, cooking shows, cookbooks, tips, and techniques.
And in our sister column 'Cocktails, Mocktails, Wine & Spirits, we will often offer you pairings for those yummy kitchen concoctions'
We will share chef intentions, cuisine backgrounds, history, traditions, expeditions, photos, and more about the foods and recipes offered, a skill at which our first Spotlight is quite exceptional.
Our debut chef is HOPE COHEN, Founder of CravePhilly and HopeCooks.com, Author of Fast, Fresh & Simple, Television Host/Media Personality, Restaurant Consultant, Influencer, Explorer, Storyteller, and mom. As proclaimed so elegantly and enthusiastically on her personal site, Hope is 'on a mission to expand palates for global food and culture through storytelling'. She travels the world, passionately seeking and mindfully finding globally inspired dishes to share with all.
We are thrilled that Hope will be a regular contributor to this column! She is simply outstanding, just like the dishes she prepares!
HOPE'S full feature will run next month, while she is out, about and abroad in Italy, but she wanted to be sure to leave you with a recipe to nibble on in the meantime:
'I hope the following recipes extracted from the vast collection in my book Fast, Fresh & Simple will inspire new ideas and provide some additional flavors to your table'….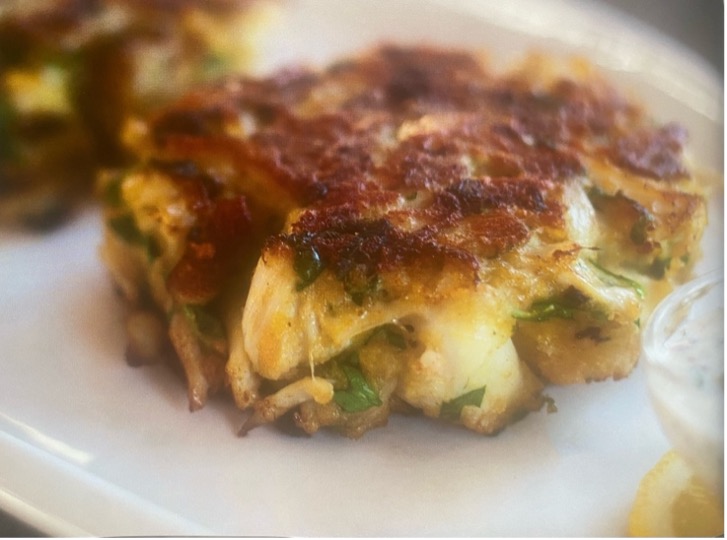 Odeon's Sauteed Crab Cakes (FFS139)
(Odeon, a wonderful old-style French bistro in Philadelphia, housed in a 19th century bookshop, is now defunct, but their crab cakes live on my memory, and now on these pages. The bigger the lumps of crab, the better the cakes will be).
Ingredients:
1 pound lump or jumbo lump crabmeat
¼ cup finely chopped flat-leaf parsley
1 bunch scallions, roots trimmed, thinly sliced
¾ cup fresh breadcrumbs
2 large eggs
¼ cup milk
Pinch of Cayenne pepper
1 teaspoon Worcestershire sauce
Fine sea salt and freshly ground black pepper
3 tablespoons unsalted butter
1 lemon, thinly sliced, for garnish
(Remoulade Sauce on page 46 of FFS for garnish)
Makes 6 Servings:
Pick over crabmeat to remove shells, keeping meat as whole as possible. Toss crab with the parsley, scallions and breadcrumbs in a large mixing bowl.
Mix eggs, milk, cayenne, Worcestershire and salt and pepper to taste in a small bowl, pour over the crab mixture and mix gently to blend, being careful not to break up the crabmeat. Shape into 6 cakes, pressing gently to help them hold together.
Heat the butter over medium heat in a large nonstick frying pan until sizzling. Brown the crab cakes on both sides, about 4 minutes per side. Serve immediately with lemon slices and remoulade sauce.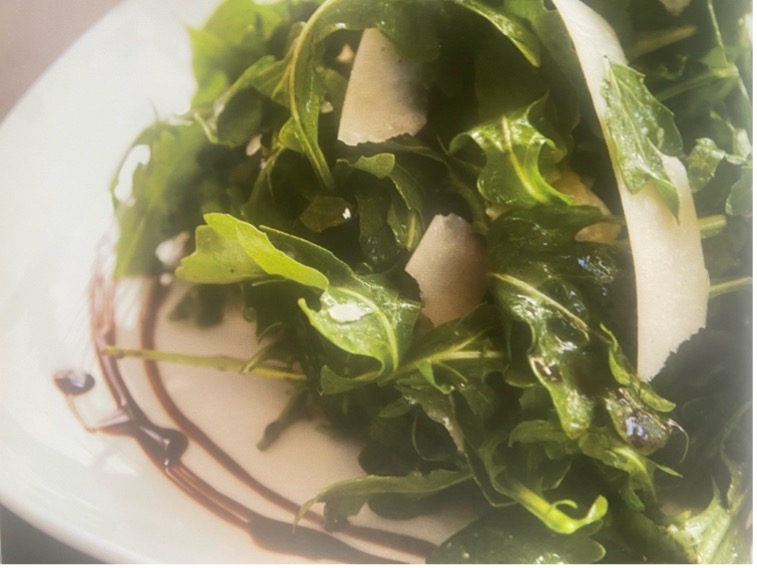 Arugula Salad with Shaved Parmigiano and Lemon (FFS 69)
(When a recipe is this simple, every ingredient is important. The arugula must be firm and fresh, the sea salt flaky and bright, and the cheese has to be the real stuff. Only a well-aged wedge of nutty Parmigiano-Reggiano will do, take care with your ingredients and tis salad practically prepares itself).
Ingredients:
Juice of ½ lemon
Sea salt and freshly ground black pepper
1 tablespoon plus 2 teaspoons extra virgin olive oil
2 bunches of arugula, roots trimmed, leaves cleaned and dried
2 ounces Parmigiano-Reggiano cheese, shaved (use a "Y" shaped vegetable peeler)
Balsamic Glaze, for garnish (available at specialty food stores), or make your own.
Makes 4 Servings:
Mix the lemon juice and salt and pepper in the bottom of a salad bowl. Mix in the oil with a fork or a whisk.
Immediately before serving add the arugula to the bowl, toss gently until the greens are lightly glazed with dressing. Add the strips of cheese and toss gently again. Season with additional salt and freshly ground pepper, if desired. Serve immediately garnishing the plate decoratively with the balsamic glaze.
Balsamic Glaze (Reduced Balsamic Vinegar):
Simmer 2 cups balsamic vinegar in a small saucepan over low heat until the vinegar is reduced to a thick glaze, about 1 hour. Check often after the first half hour since it is more apt to scorch near the end of cooking. Makes about ¼ cup.
If you'd like to experience more of what you see above, you can order Fast Fresh + Simple: Over 100 Delicious Recipes for Entertaining and Every Day here:
Instagram: @icravephilly
website: www.hopecooks.com